Buy Safex Tokens on Xcalibra exchange | Detailed guide
Follow our guide and buy Safex Tokens on Xcalibra cryptocurrency exchange using a credit/debit card. Here we go!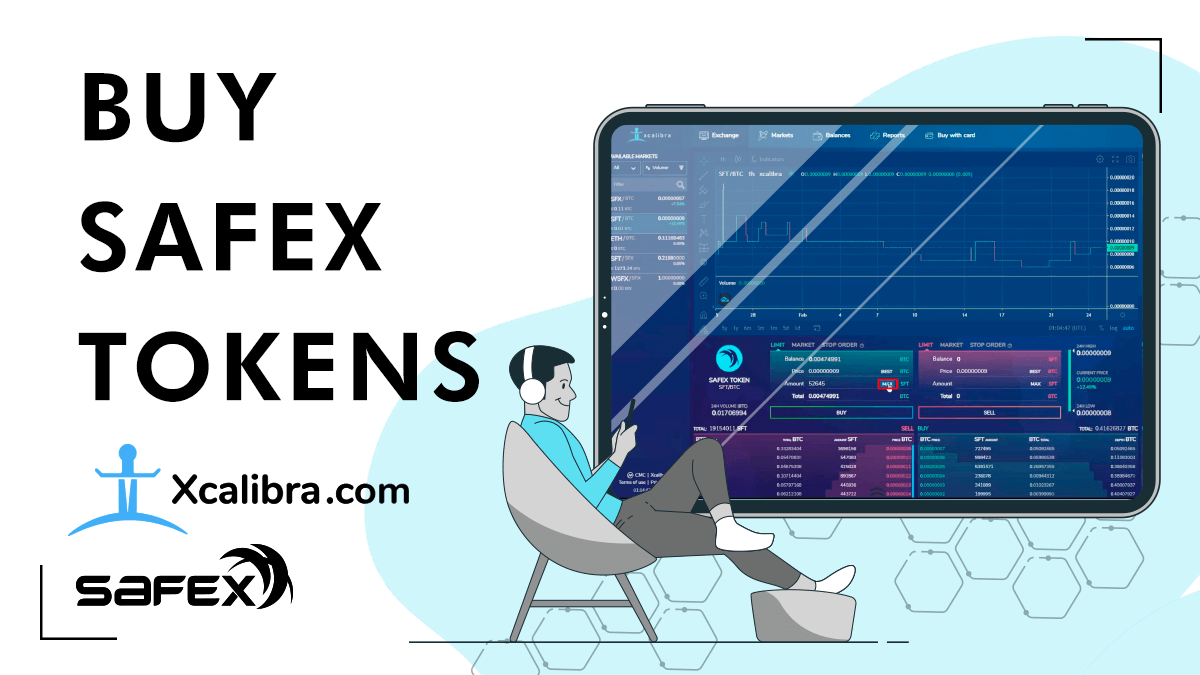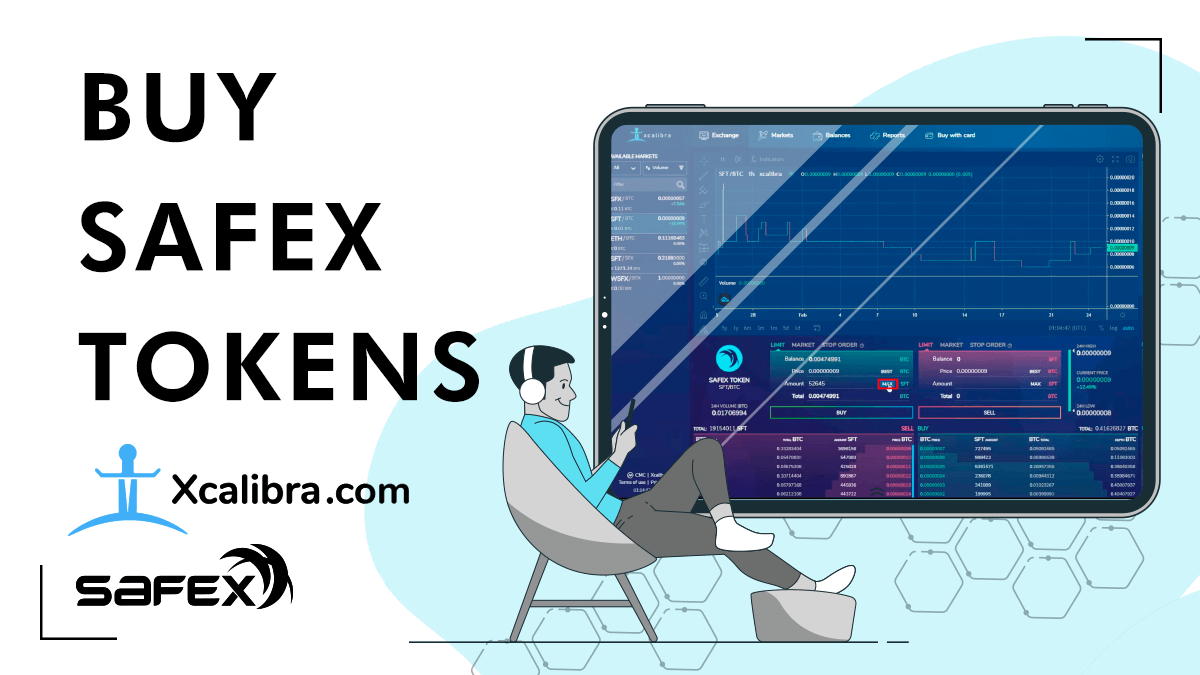 Some time ago, we made a guide on how to buy Safex Cash on the Xcalibra cryptocurrency exchange. This guide will be very similar: we'll show you how to buy Bitcoin with a Credit Card on the Xcalibra exchange and how to use it to purchase Safex Tokens.
Three easy-to-follow steps are all you need to get some Safex Tokens in your wallet:
Buy Bitcoin with Card on Xcalibra.com
Exchange Bitcoin for Safex Tokens
Send Safex Tokens to Safex TWM Wallet
What after? You can hold your Tokens in the wallet and use them to create a Merchant account, and/or stake them and earn passive income from all products sold on Safex Marketplace.
We also made a video tutorial, so you could jump to the end if you want to follow.
What do you need to buy Safex Tokens?
You'll need an Xcalibra account, some amount on your card, and the TWM wallet installed on your PC to transfer your newly-bought Tokens or go shopping on the Safex Market using Safex Cash. If you are not sure how to do it, follow this tutorial.
Let's start.
1. Buy Bitcoin with a Card on Xcalibra exchange
Log in to Xcalibra.com.

Click on the Login button on the upper right side. If you have an account on this exchange - type in your email address and password in the window that will pop up, and click Log in. If you still don't have an account - here is how to make it.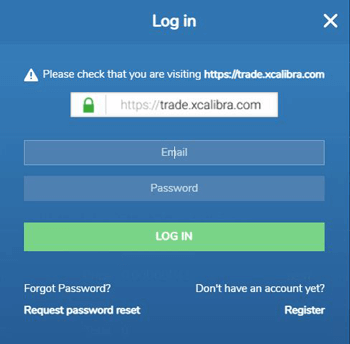 Next: Type in your 2FA code and click on the Login button.
The last of five tabs is the Buy with Card tab; click on it. On the right side, you will see a form for buying coins via card. In this case, we are buying a fraction of Bitcoin for Dollars, but you can use some other national currencies to purchase Bitcoin. [To be sure what national currencies are available on Xcalibra, click the drop-down menu to the right of the currency field to see what other currency can be used.]
In the first field, type how much USD you want to use for buying Bitcoin. Click on the continue button.
You can pay with a VISA / MasterCard or use SEPA & SWIFT transfer. Our choice is a visa card. Click on the confirm button.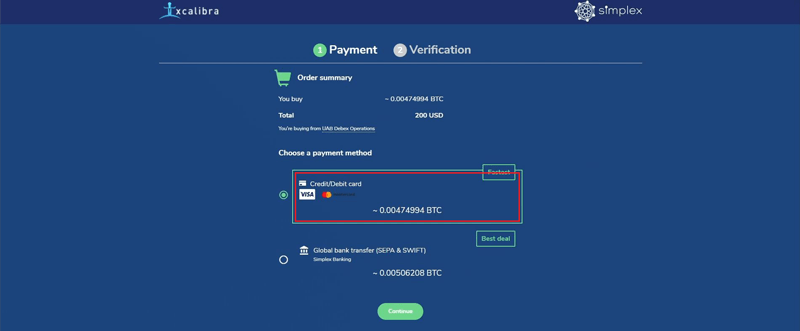 Next, you'll see a window where you should enter your card information. Enter valid data, tick you agree on terms and conditions, and click on the Next button.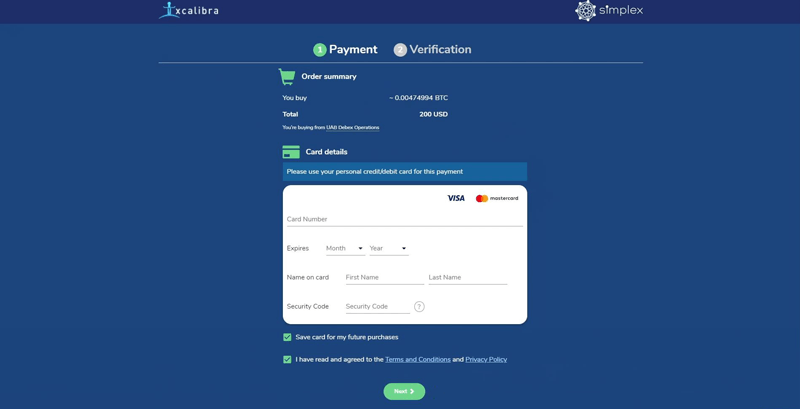 You might get a notification saying you can pay in previously chosen or local currency. We picked to pay in local currency this time. Click on the Continue button.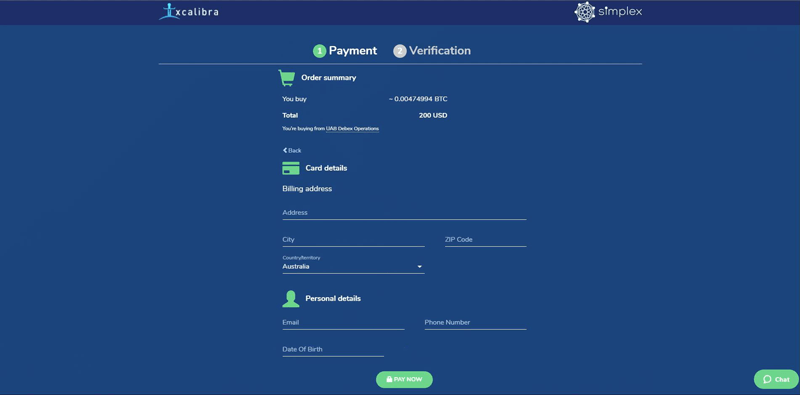 Your bank may have its own verification requirements, and a screen will display the Verification process: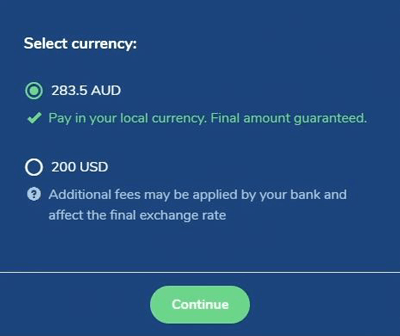 Your bank may have its own verification requirements, and a screen will display the Verification process:

Our payment will then get authorized and approved, and you'll receive a confirmation email from Xcalibra's partner, Simplex.
Back on the webpage, click the Return to Xcalibra button.

You'll get a Payment submitted popup window, which means this step is successfully finished: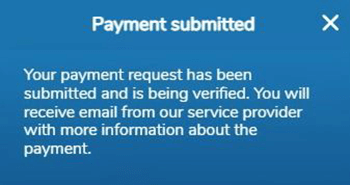 You'll get to a Card Payments report window by closing the window. There you can see a history of your card purchases on the Xcalibra exchange. Soon you'll see Bitcoin on your Xcalibra account.

Click on the Balances tab, then click the deposit button in the BTC section of the screen, and as soon as the Bitcoin transaction is processed on the blockchain, it will be visible in the Deposit History table.
If you check the Status column, you will see the confirmations for the pending Bitcoin deposit.
Three confirmations are needed for the BTC to appear in your available balance on the Xcalibra account.
2. Exchange Bitcoin (BTC) for Safex Tokens (SFT)
You can now click on the SFT/BTC pairing on the right side.

On the SFT/BTC pairing, you'll see it defaults to Limit Orders. If you want coins fast, you can change to Market [1], then place your order.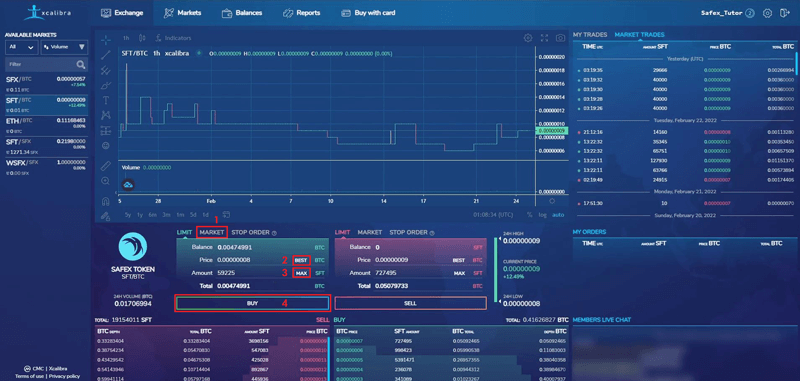 If you choose the Market option, click on the Best [2] button - to get the best offer and click the Max button - to buy the maximum amount for the BTC you have. Then proceed to purchase Safex Tokens by clicking on the Buy button [4].
A popup window appears - make sure you check if it is accurate, and then click the confirm button.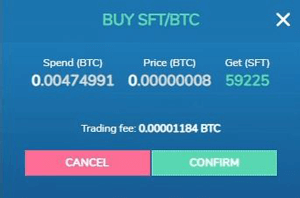 The transaction will be processed right away. If you want to withdraw your purchased Safex Tokens - here is how to do it.
3. Send Safex Tokens to Safex TWM Wallet
Click on Balances, then on the Withdraw button in the Safex Tokens section of the screen.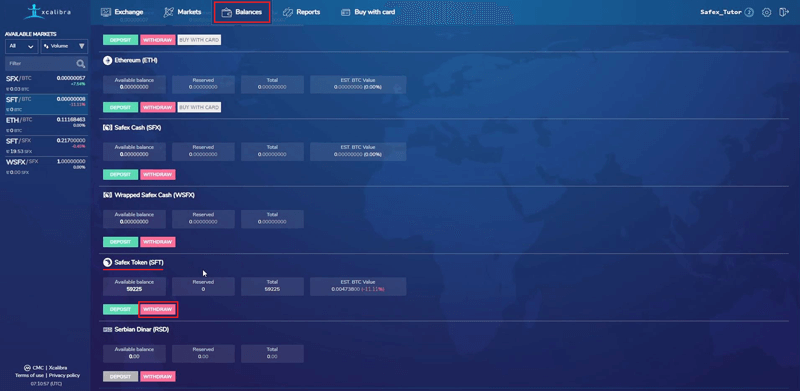 The withdrawal page on Xcalibra will open.

Over in TWM Wallet, go to the Tokens tab and click on the Copy Address button.

Then back on the Xcalibra withdrawal page, paste Safex Address into the appropriate field [1].
Make sure you copy Safex Tokens address, not Safex Cash address.

Enter the amount of Safex Tokens you want to withdraw [2], then click the Withdraw button.
The Withdrawal History then populates for the request with an Unconfirmed status, and a confirmation email is sent.
When the confirmation email arrives, click the Confirm Withdrawal button in the email, and the Withdrawal will be confirmed.

It will change from Pending to Processing very soon. A short time later, the withdrawal shows as completed.
You can then go to your TWM Wallet, check the history, and confirm the coins are there. A current bug in TWM v1.6 causes old data to show in the History tab the first time you access it each login. Simply click back to another tab and then back to History and it will update to current topblock data.

Your private Safex wallet address is the safest place to keep your coins. Once TWM Wallet v2 is released, we will show you how to create Merchant Accounts with your SFT. Right now, if you want, you can stake your Tokens and earn passive income from all sales on Safex Marketplace. To stake your SFT, follow this guide.
The complete video guide: