Why your Online Store should accept Payments in Bitcoin & Safex Cash
In this article you are going to learn about the benefits of accepting Bitcoin as payment in your eCommerce store. Furthermore, you will get to know a blockchain-based eCommerce platform - The World Marketplace - that cuts out the middlemen of all processes and enables true peer-to-peer trading.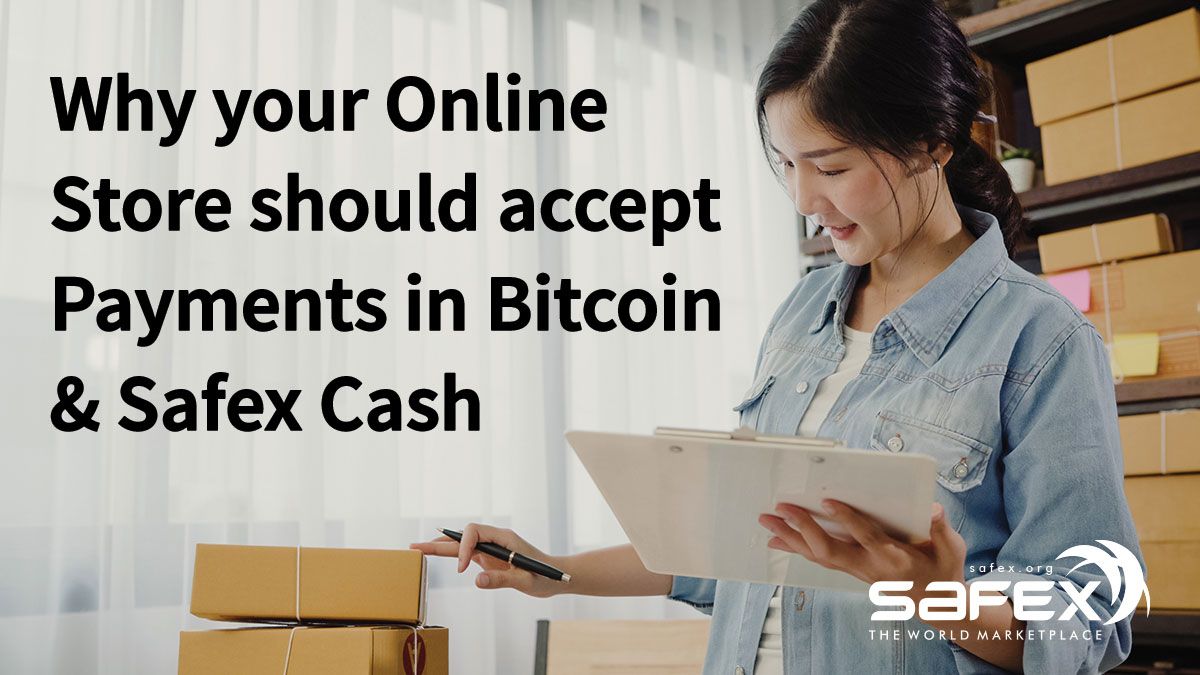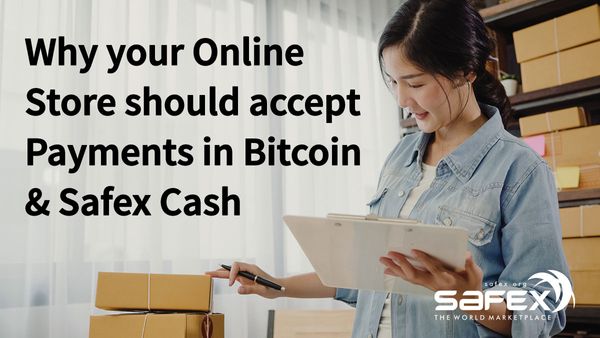 The eCommerce sector is still rapidly growing, estimating an increase of the global eCommerce retail sales volume from $4.2b in 2020 to $4.9b in 2021. The further forecasts suggest that this acceleration will likely not slow down within the next few years. These estimations indicate that the way of the traditional trading system has been significantly changing and the global market of eCommerce is not saturated yet at all. Considering other factors that affect the financial markets, such as the spreading use of cryptocurrencies and increase of their valuations, the future of eCommerce seems to be predictable.
The rising trend of cryptocurrencies indicates eCommerce's evolution into a specific form of Crypto-Commerce that will enable peer-to-peer trading and bring multiple benefits to merchants and customers. If you are still debating on whether you should accept Bitcoin as payment or any other cryptocurrency in your online store and how to do this, this article should help you with your decision.
How to accept Bitcoin as payment?
Create a Bitcoin wallet
A Bitcoin wallet is a downloadable application - for desktop as well as for mobile devices which lets the user create and manage Bitcoin private keys. Transactions can be executed and balances can be checked. It is advisable to only use open source software which has already been in use for a long time and a high number of users. This minimizes the risk that a user's private keys are compromised. A wallet which provides even better security would be a hardware wallet. This is a special device which keeps the private key separate from a different system - like a connected computer which runs the graphical user interface. A different form of wallets are cold wallets like a CryptoSteel or paper wallets which hold the private keys in analog, visible form. In this case, the Bitcoin private key was never existent on a device connected to the internet. The generated address is therefore called "cold". If you decide to use digital payment processors such as Bitpay or Coinbase, creating a Bitcoin wallet won't be necessary.
Sign up for a Digital Payment Processing Service
Choosing a digital payment processing third-party service is one of the possible solutions for enabling Bitcoin payments on your online store. Once you integrate the Bitcoin payment on your online store, the process of transferring the money from the customers to the merchants' wallet will be automatically provided.
Bitpay
Bitpay provides you to accept payments from all over the world. The first step is creating an account, after which the process of integration to your website can start. With Bitpay, you can settle transactions from 38 countries in the world in a variety of different cryptocurrencies. It supports the integration with over 40 eCommerce platforms such as WooCommerce, Shopify, etc.
Coin Gate
Coin Gate is another digital payment processor that allows the merchant to accept 50+ cryptocurrencies. Coin Gate provides its users with a complete payment infrastructure. Every time a buyer chooses to pay using Coin Gate, it generates the payment invoice through the payment window for the shopper and transfers the money in the chosen fiat or cryptocurrency. Coin Gate can be integrated into an online store by using the plugin for the preferred eCommerce platform, payment buttons, or using an API.
Coin Base
CoinBase is one of the largest Bitcoin exchange platforms where users can buy cryptocurrencies or sell them for fiat and easily transfer it to a bank account or credit card. CoinBase is famous for so-called Bitcoin merchant services, allowing the merchants to store their assets and revenues on the platform in Bitcoin, set a daily withdrawal to a bank account, and charge each transaction with a 1% payment processing fee.
Digital payment processors function in the same way as regular card payment processors do. The greatest advantage of using digital payment processors' services is that they will entirely manage the transactions and convert the cryptocurrencies to fiat automatically. This reduces the merchants' exposure to the volatility of the cryptocurrency markets.
What benefits do cryptocurrencies provide for merchants
Broader market & limitless possibilities for global transactions
Not only that your online store will transcend the boundaries of the local, state and cross-board market level, it will also have an opportunity to address all the users without a credit card, PayPal account or another alternative way of payment. Accepting Bitcoin and other cryptocurrencies overall means that now you can accept payments from anyone and everywhere in the world.
Fast transactions
Accepting cryptocurrency payments enables an online store to use its revenue from settled transactions almost immediately. In opposite to traditional payment systems requiring three to five days until a transaction is processed and the money is in your bank account, blockchain technology enables global settlement of transactions in a decentralized manner shortly after they have been submitted to the network by the sender. This way, a vendor has the sales revenue of a successful transaction immediately available and can directly put it to use in different protocols, load up a cryptocurrency debit card or exchange it for fiat currency and withdraw it to a bank account.
Low transaction fees
Lower transaction fees can be very lucrative and the major incentive for businesses to use cryptocurrencies as a method of payment. Mastercard charges from 1.5% up to 2.6% for a single transaction, while Visa takes 1.43% to 2.4% per transaction. There are seven different parties involved in the payment process of a traditional payment system and add their fee to the transaction, making it more expensive. Consequently, increasing costs due to fees directly affect your revenue as a merchant. For a transaction settled on a blockchain, there are no different layers of third-parties involved. The cost of a transaction is determined by the transaction capacity of the blockchain and the ongoing transaction traffic by users.
The advantage of cutting out the intermediaries and allowing peer-to-peer transactions is an additional reason to include cryptocurrencies in your payment options and start to accept Bitcoin as payment.
Greater security
Blockchain technology enables its users to either perform pseudonymous transactions (public ledger) or anonymous transactions (obfuscated ledger), meaning that you will not be obliged to give any of your personal or financial data to a third-party. Furthermore, Blockchain technology functions on encryption principles, which give your transactions and asset balances a high level of security as long as you manage and handle your private keys in a responsible manner.
Which companies accept Bitcoin as payment?
Blockchain technology should be observed beyond Bitcoin. Blockchain has the potential to become a new way of how to streamline businesses. The list of companies that have already recognized the potential of cryptocurrencies and accept Bitcoin as payment is becoming bigger.
In January 2014, Overstock became the first large eCommerce retailer to accept Bitcoin as payment and has expanded the list of accepted cryptocurrencies since then. Now, the users can pay with Ethereum, Monero, Dash and Bitcoin Cash.
Other huge companies accept Bitcoin as payment as well. Expedia, an online travel booking agency, has also implemented Bitcoin as a form of payment. Microsoft has enabled an option for the customers to pay with Bitcoin for its apps, games and movies in the Windows and Xbox stores. Some other successful companies which have been following the trend of implementing cryptocurrency payments are Tesla, BMW, Amazon, Aliexpress and Shopify while Coca-Cola introduced vending machines that accept Bitcoin.
Is there a Shopify alternative for accepting cryptocurrencies in eCommerce?
In contrast to Shopify, which is basically a web application with the possibility to integrate a cryptocurrency payment system on top, there is a blockchain-based eCommerce platform called The World Marketplace powered by Safex. The features of this platform make it a Shopify alternative for various reasons.
With the help of this platform, it is possible to create merchant accounts and product offers on a blockchain with privacy features. Customers can browse the platform for vendors, products and services and can settle purchases on the blockchain. Since all those functionalities are embedded on the blockchain instead of today's integration of cryptocurrency payment solutions in regular eCommerce platforms, this is true Crypto-Commerce.
A created merchant account can also represent an entire online store, which available offers can also be embedded on a separate website hosted by the merchant besides of being visible for customers in The World Marketplace app. Notice, that in this ecosystem only true peer-to-peer trades take place in a decentralized manner without any centralized third-party payment processing system involved at all.
Safex itself - the core protocol which serves as the first layer as well as the marketplace application which serves as the second layer - is all open source software.  This ensures that no hidden data collection can take place. Due to the privacy features of the blockchain including stealth addresses and ring signatures, transactions are completely anonymous. Relevant data like addresses and shipping information are only shared between the merchant and the buyer of a specific transaction. The means of payment is such a transaction is always the cryptocurrency Safex Cash. It is proof-of-work mineable and its emission rate follows the adoption rate of new technology. This way, the block rewards increase with ongoing adoption of the network to ensure fair mining for a long time.
Another possibility to get a hold of Safex Cash besides mining it is by purchasing it on the market via a cryptocurrency exchange like Xcalibra and Bitrue. Whenever using the service of cryptocurrency exchanges, do your own due diligence and don't use exchange accounts for long-term storage of balances.
Using Safex Cash as a means of payment on The World Marketplace will provide you an experience of how real Crypto-Commerce works and will show how the future of eCommerce can look like. The World Marketplace is a perfect opportunity for small vendors to overcome the competition in a new sector of eCommerce and scale their business. With a simple integration method, your eCommerce store and business will get to the next level. By following the evolution of eCommerce you can become a pioneer in this new industry.