Evolution of eCommerce: From the Dawn of the Internet to Crypto-Commerce
The evolution of eCommerce started with the Internet and the world wide web built on top of it. While the established market giants of eCommerce are still increasing their sales year after year, an innovate form of eCommerce - blockchain-based Crypto-Commerce - is on the edge of changing the game.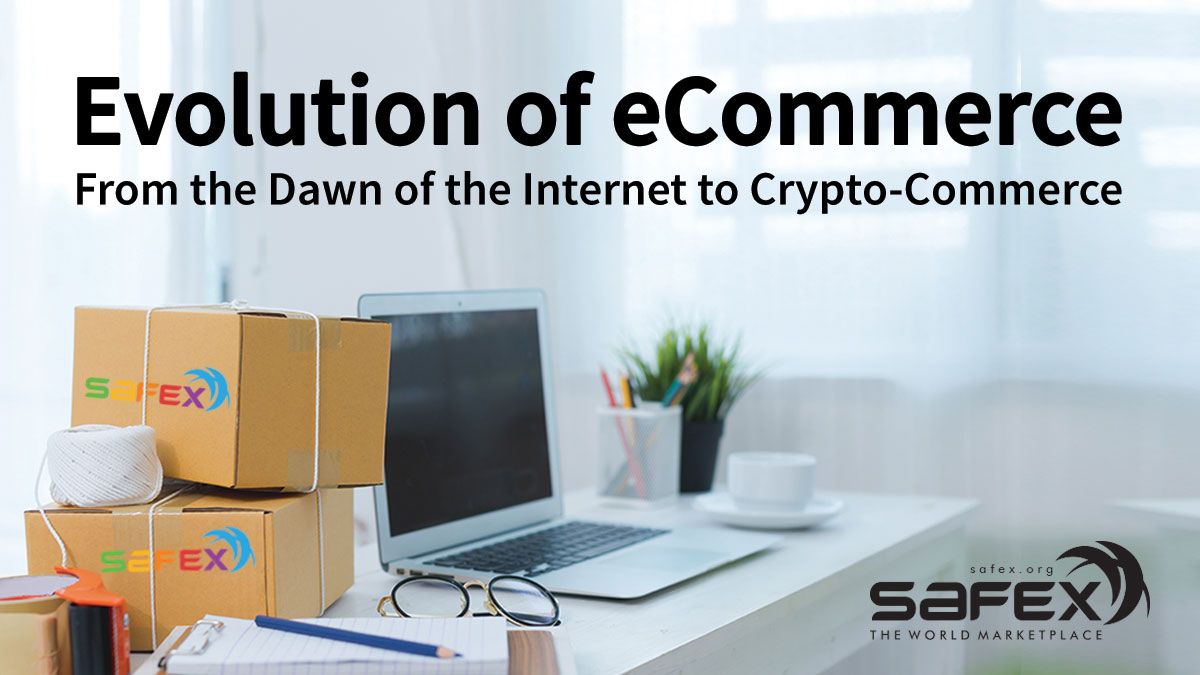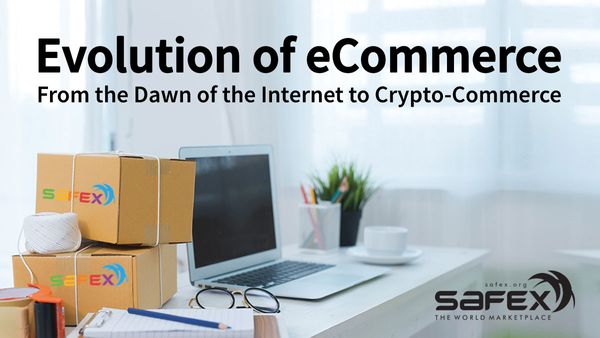 The last two decades were marked by the fast and ever-evolving transformation of the Internet and its possibilities. Follow this journey from the almost unlimited access to data to the incredible boom of eCommerce that changed the centuries-old way of commerce.
In fact, eCommerce continues to develop and grow beyond what you would expect. The next form of it is the implementation and use of blockchain technology that fundamentally changes the financial world, the way of how transactions are being made, and the economy overall, heading to the next crucial transformation of eCommerce to a Crypto-Commerce, whose application has just been started.
Crucial eCommerce milestones
The World Wide Web, being built upon the Internet, went public in 1991 but the roots of eCommerce practices had taken place way back to 1972, when students of the MIT made their first purchase using Arpanet, a predecessor of the Internet.
Amazon, which is now one of the largest eCommerce companies in the world, made its first sale in 1995, the same year as eBay was founded, which was the first bidding platform that enabled people to buy and sell products from one another. The next crucial eCommerce turning point was made by PayPal by introducing the first online payment system in 1998 - in the form of money transfer that changed how online payments were made and processed.
eCommerce today
From the very first book Amazon sold in 1995, we have come to an estimation of an eCommerce market being worth 5 trillion USD in 2021.
Just in 2020, as a consequence of a global pandemic, eCommerce has recorded a ten years growth in only three months. Nearly 150 million people made their online purchases for the first time, and it is expected that the number of eCommerce shoppers will only continue to increase.
Another significant change that the global pandemic brought to light is the increase of cross-border eCommerce by 21%, putting China to the second position in the cross-border eCommerce ranking. Such a rise of cross-border eCommerce indicates that the merchants will quest for a faster, more reliable and less expensive payment system that will overcome the chain of intermediaries and create a more favorable business environment for them.
The evolution of eCommerce: Crypto-commerce
Although the established structures of today's eCommerce can be expected to stay quite successful using fiat currencies only, the introduction of a digital transaction system using cryptocurrency will evolve eCommerce to the next level. The creation of Crypto-Commerce will introduce new advantages and features into this sector.
Currently, the use of cryptocurrencies is limited to the most technologically advanced users. However, factoring in that banks start to use blockchain technology, Visa and MasterCard develop a blockchain-based payment system and even a few countries are developing their national cryptocurrencies, it is inevitable that the use of cryptocurrencies will increase. Therefore, eCommerce merchants should start to consider the implementation of blockchain-based payment processing systems into their eCommerce stores.
Online shopping with cryptocurrency was first enabled in 2014 by Overstock, one of the greatest online retailers, who allowed its customers to pay for products in Bitcoin. Overstock expanded these options later introducing new cryptocurrencies such as Ethereum, Litecoin, Dash, Monero, and Bitcoin Cash.
Predictions about the evolution of eCommerce driven by the implementation of payment methods integrating cryptocurrencies are also supported by reports claiming that 50 million users have spent €3.4 trillion in the cryptocurrency market, while Foresight Business predicts the North American cryptocurrency market alone will reach $1.8 billion by 2027 from $250 million in 2019.
The benefits of cryptocurrencies

Rapid transactions & lower transaction fees
Although online purchasing seems to be instant, the reality is quite different, shaped by slow banking processes. Blockchain technology enables direct contact between users, excludes intermediaries and reduces the costs of transaction fees that are charged every time a payment via credit card or some other payment method is processed. Higher fees not only decrease the vendors' profits but also increase the products' final price making the customers spending more.
Security: Blockchain and data privacy
Compared to the classic form of payments, blockchain-based eCommerce technology offers greater security to users enabling the option to be either anonymous, pseudonymous or private while every transaction is completely trackable by the respective user. There is no centralized third party involved in processing transactions which are therefore uncensorable and immutable after being completed. Blockchain technology is entirely decentralized and using it for doing transactions helps to avoid the collection of data which is common for regular payment processing standards.
An additional benefit of cryptocurrencies is the possibility to use them in any market and part of the world without being obliged to modify the prices or exchange them for different currencies. Accepting cryptocurrencies as a vendor in eCommerce can help you broaden your customer base and improve your sales.
The World Marketplace: Shopping with cryptocurrency
Merging blockchain technology with eCommerce and evolving it to crypto-commerce is the future of exchanging goods and services. Crypto-Commerce will provide numerous benefits to online businesses, enabling them to lower fees and operational costs, an increase in profits, the privacy-oriented customers' policy, and access to a broader globally-oriented market. Choosing blockchain technology and making the first step towards crypto-commerce should be supported by a trusted partner you can rely on.
Safex has developed the blockchain engine for eCommerce that will help you to create unstoppable web stores.
Safex provides online merchants with the The World Marketplace app that enables the users to shop or sell directly to each other, create offers and maintain them.
Safex has developed a rating and messaging system that makes The World Marketplace a secure and reliable place for online shopping with cryptocurrencies.
These features turn the blockchain-based platform into an innovative competitor for established platforms with regular offer and payment processing structures.