7 Sites Like Etsy to Sell your Handmade Crafts
If you're looking for some Etsy alternatives to sell your handmade crafts, these sites will most likely fulfill your needs: Safex, Amazon Artfire, Aftcra, and many others.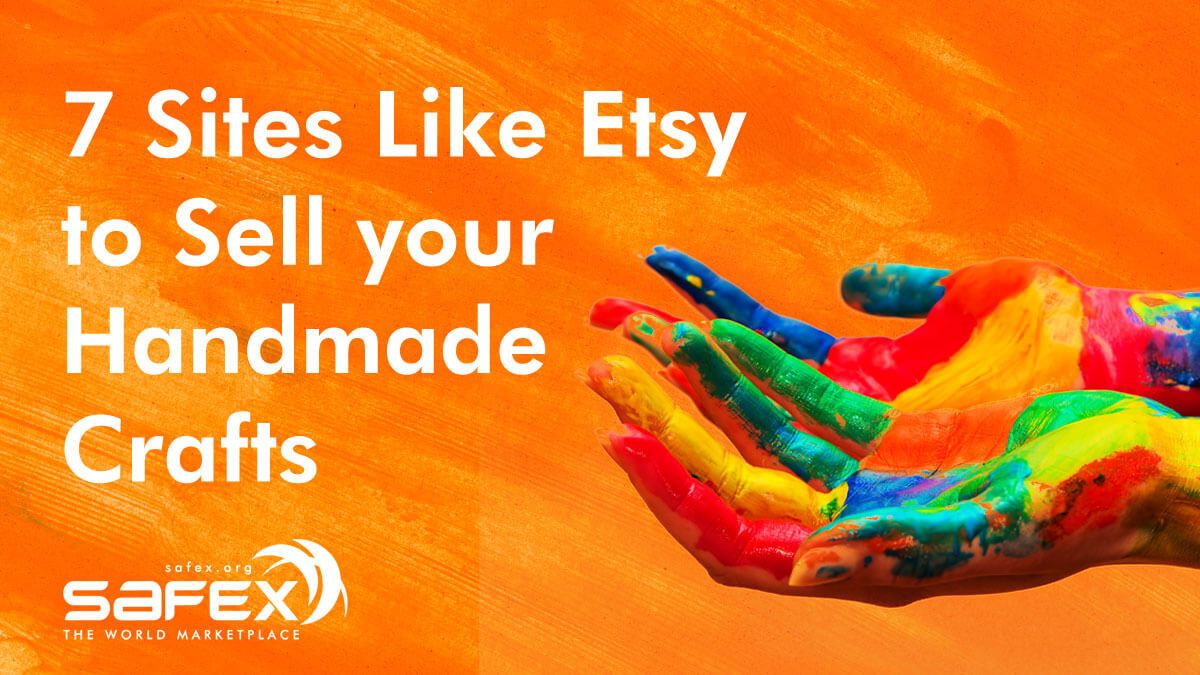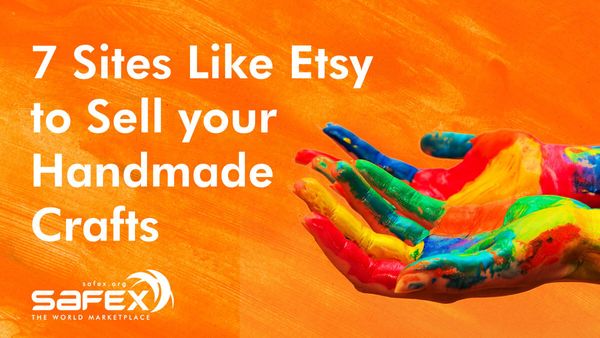 Over time, Etsy has become a household name for worldwide crafters and shoppers alike. Individuals who are looking to sell or buy handmade, vintage, and other similar items often turn to this website to do so. Although Etsy continues growing and gains new users year after year, it also changes and updates some of its business terms. Sometimes those changes are in favor of merchants, and other times they're not. If you are looking for an online place to sell your vintage and handmade goods, you probably want to have some options and then opt for the most suitable one. That's why we're listing seven Etsy alternatives and explaining each of their pros and cons. But for instance, let's see why do people look for other sites like Etsy.
Why do sellers look for sites like Etsy?

Although the broad audience Etsy reaches daily is both attractive and beneficial to some sellers, it also brings particular challenges. In a marketplace so big, merchants can have trouble differentiating themselves from the competition. In addition to that, Etsy suggests other sellers' products on each product page, and even sellers who cash out for a paid promotion will have to fight for their place. It takes dedication and experience for individuals to stand out from the crowd and showcase their products in a way that's most attractive to the audience. That's why newbies might consider Etsy alternatives to kickstart their online sales.

Another reason sellers look for Etsy alternatives is that they can't engage in several traditional marketing techniques. Although Etsy offers paid promotions, it doesn't provide marketing tools or Facebook marketing, and sellers familiar with social media influence on online shopping resent Etsy because of this.

Lastly, some sellers are looking to expand their business to other marketplaces as well. By doing so, they get a chance to reach an even broader audience and increase eCommerce revenue.
Before choosing the most suitable marketplace to sell your handmade crafts, there are many things to consider, from the initial costs, listing, transaction fees, and inventory management solutions. If Etsy isn't your perfect match due to the reasons we mentioned above, then take a look at these Etsy alternatives:
1. Amazon Handmade

The giant among online marketplaces has developed its own artisan marketplace within. Being a part of Amazon, Amazon Handmade brings many potential benefits to sellers worldwide, mainly in terms of a broad audience. To sell there, you first need to apply. You also need to fulfill specific requirements, such as only selling products made entirely by hand, hand-assembled or hand-altered. The products you sell must be made either by you or another member of your collective. Once your application gets approved, you may start selling in your desired categories, including home decor, jewelry, personal care, apparel, etc. Your membership will cost 40$ a month, but you won't have listing fees or limitations regarding the number of items you post online.
2. ArtFire

Artfire brings crafters all around the world together, so they can sell, buy and interact on its marketplace. It allows easy searches by categories, trends, occasions, or boutiques. Artfire offers three selling plans: Standard, Popular, and Featured. The subscription costs between 5$ for the Standard plan and 40$ for a Featured plan. Although there are listing fees, they can be as low as 23 cents per item. One of the most outstanding features this platform brings is a wanted ad. Using the wanted ads, shoppers can specifically ask for what they're looking for and have one of the sellers custom make it for them.
3. Aftcra

Although this is one of the smaller selling platforms and only available to Americans, it found its place among other Etsy competitors out there. It has a strict policy by which they constitute a handmade item, but if you fit the bill, you'll be able to set up and start selling in no time. This platform charges a 7% fee whenever an item is sold.
4. Icraftgifts

iCraftGifts allows an easy setup for your store and provides community blog articles, marketing services, message boards, crafts, and arts events. Once you set up your store, you can also inform buyers that you accept custom project requests and make extra revenue. You can sign up for one of their listing plans:
Starter listing plan (5$ a month, 50 listings)
Professional listing plan (10$ a month, 100 listings)
Elite listing plan (15$ a month, unlimited listings)
There's a one-time registration fee that costs 25$ and no transaction fees.
5. Ruby Lane

Ruby Lane specializes in vintage pieces, including jewelry, art, and antiques. It allows sellers to use third-party marketing tools, connect to their customers via Skype, and gives them access to Google Analytics data. This platform also offers a secret shopper program, where it contacts sellers privately and offers recommendations and feedback if their items don't meet the marketplace standards.
6. IndieMade

This platform is a one-stop-shop for artists. Their site handles everything from managing a website to marketing, including web hosting, photo galleries, support, and marketing tools. IndieMade offers a free 30-day trial, during which sellers get access to all their tools. Afterward, you can choose one of their listing plans and pay a monthly subscription.
7. Storenvy

Storenvy specializes in small independent brands and takes pride in showcasing high-quality products. Their team promotes sellers' products on social media, which is undoubtedly an excellent advantage. This platform even has a higher average sales price when compared to Etsy. It allows sellers to sign up for a free account and sell up to a thousand products. For those who are looking to sell more, Storenvy offers a Premium account.
Final thoughts
Apart from these seven sites like Etsy we listed above, you can find several other options that offer similar terms and benefits to their sellers. However, suppose you're looking to join an innovative form of a marketplace, a decentralized one. In that case, you may be interested in selling your handmade crafts on Safex Market powered by Safex blockchain. It's one of the most outstanding examples of blockchain based eCommerce platforms. It provides numerous benefits to its users, including significantly lower transaction fees, data security, safe transactions, and more freedom for crafters and artisan worldwide.If you want to look at what products are currently listed on Safex Market, visit Safex.Ninja, and if you wish to buy some product or experience Safex Wallet - follow this guide.