How to contribute to Safex?
This text will give you some ideas about how to support Safex. Let's do it together!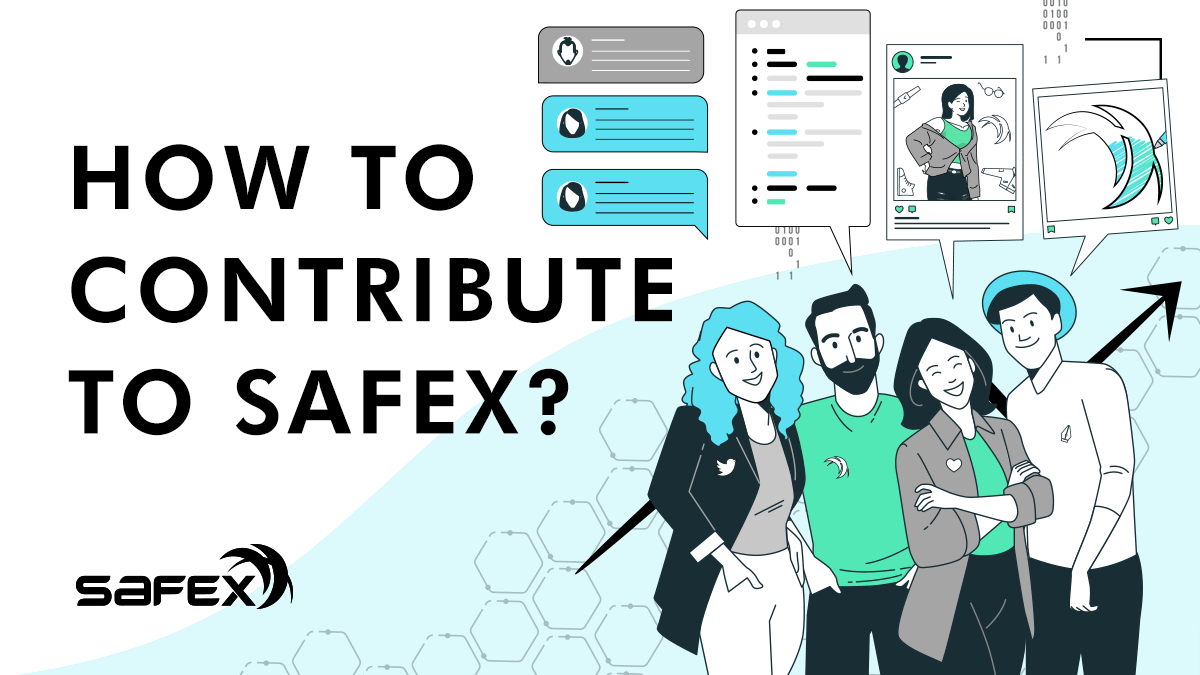 In the following paragraphs, you can find simple ideas on how to support Safex using the knowledge and skills you already have. This way, you can contribute to the success of Safex Market, help protect your investment by growing the user base, and spread value to future users.
We will focus on non-dev tips so that anyone can find them helpful, so let's begin with a few of the easily accessible and less time-consuming options.
1. Social media engagement
One of the easiest and best ways to help promote Safex is by being present online, and staying engaged. You don't need some particular skill for that, just be active on social media, post about Safex, post what you think, what you like about Safex, and share existing or newly-made content.
If you have an account on any social media platform, and are familiar with posting and sharing, you could use your skills and bring a lot of value to the project. You can spread the word about Safex and its functionalities by sharing, commenting, and posting. If you don't have an account, it only takes a few minutes to open one.
When you buy something on Safex Market — share it with the world
Safex Market has an extensive catalog of products, and includes electronics, sports equipment, fashion accessories, fine cosmetics and beauty products, household items, etc. When you buy something, it'll usually be delivered in 1-2 days. Make sure you snap a photo and share your purchased item on your socials. You can post it on Twitter, Instagram, Facebook, Reddit, or Discord. The world should see it!
Examples: Safex Fan, Sionna Ashley, Andre
Reshare existing content — someone made it, you reshare it
Our community makes a lot of content: we have visual and textual content present online made by skilled members. We also have heaps of content on our blog: cryptocurrency and blockchain basic explanations, advanced Safex explanations, guides, eCommerce texts, and infographics. What you could do is share it on your social media accounts!
Engage in discussion
People on social media love to ask questions, receive comments, and share their opinions. Many helpful replies are possible, to see and learn from them. By replying and commenting on relevant topics, you could spread the word about Safex. Make sure you tag Safex accounts, and if possible, share the link to the related page (download wallet page or similar).
Examples: AussieSloth, Safex Ninja, Kiyoshi
Write your opinion
Write your opinion about Safex, what you like, and what the benefits are in your opinion. Be vocal! We all have a lot to say, and we should express it more loudly and more actively.
The king of posting, commenting, and online mingling gave us all a lesson on how to be active and how to promote Safex. Thank you, Mr022.
Tips: If you don't have an account on social media, just make one. If possible, use "safex" in the handle/nickname. We recommend using the most suitable for you: Twitter, Instagram, TikTok, Facebook, or any other social media. Use links, visuals, and your words to express yourself — tag accounts of some other Safex community members who could reshare it further.
On Instagram: you can make posts, stories, and reels, with included music, links, and tags. You don't need to be a pro - you can enjoy and have fun.
If you're on Instagram, remember to use hashtags in your posts. You can use some of these:  #safex #safexmarket #safexcash #safextokens #buyonsafex. If you are pointing to the Safex catalog and some specific product you might use: #ecommerce #onlineshop #cryptocommerce and similar. When discussing blockchain features, you might use these hashtags: #blockchain #cryptocurrency #digital #crypto, etc.
Consistency makes a huge difference, and it always works.
2. Create visual content
Of course, you don't have to be professional — we are not all JCDM Safex. However, we can support Safex by making less demanding visual content that can be published on Twitter, Instagram, and Reddit.
Ronin made a set of the most comprehensive Safex infographics - they were so good that we redesigned them in our own "graphics brand" layout, and now they're all over the Internet.
Safex Market is making memes like crazy, which have been reshared on our Instagram account. This account also promotes videos, followed by an excellent textual description with related links. Keep in mind that videos, memes, or any visual content could be posted on Instagram, Facebook, and TikTok and receive significant exposure.
Videos are a compelling way of communicating with people — you've probably seen some of the videos Safex.Market is making. Andre made an excellent video about purchasing items from Safex, and we hope to see many more.
Tips: Use the Safex logo, colors, and website link on your visual. If you need any graphic material, Safex Tutor can provide it. Just ping us on Twitter. We will share some basic links right now:
3. Educate

It could seem like education is next level and demands a bit more time, but it's actually pretty simple. You can:
Write short blog posts, and post them on Reddit, Medium, HackerNoon, or similar places. It doesn't have to be long or be written in academic language, you can be yourself, and the great thing is that you can use resources from the Safex blog.
Write posts or threads on Twitter about Safex blockchain, Safex Market, Privacy.
Start your own blog page.
Make videos on "how to": buy coins, send coins, buy products, stake Tokens, mine Safex Cash, and so on.
Make short videos or reels and post them on social media.
Examples:
An excellent example of a detailed educational post is AussieSloth's post about Safex on his Steemit profile. Many other community members wrote valuable educational content and published it on Medium (eg. Roeuge) and the Safex forum.
Crypto Girl made a fantastic video guide about building a Safex rig on her YouTube channel. Short videos in the form of reels can be posted on Instagram, and considering that the algorithm loves it, they could get a lot of views.
In the end (but let's not brag), we make educational content on our own Safex blog; however, we are posting on other places as well — check out our content  on Medium, as well as on HackerNoon. We usually focus on Safex wallet functionalities, simplicity of buying products, privacy, and basic eCommerce functionalities and tips.
Tips: You don't have to write long text: 500 - 1000 words could sometimes work much better than a long text. Both shorter and longer posts have their benefits, however, you don't need to be an SEO expert to express your opinion.
Reddit is one of the most popular forums for crypto enthusiasts. Reddit is used for discussion, promotion, and sharing awareness for crypto and other topics. You should differentiate the Safex subreddit, where we post about Safex only, from other subreddits with different topics. If you want to post something about Safex on the other subreddits - follow the rules of each subreddit, to ensure you're not flagged as a spammer, and engage in conversation instead of just throwing the links.
4. Help with testing / providing feedback

The Safex team is always making improvements to some aspect of the project, and the community is often integral to that process, by helping with testing, sending feedback, and similar. To help with testing, you need to have at least a basic tech knowledge. Anyone can provide feedback, based directly on their user experience with the software or process they interacted with or experienced. Usually, it all happens on Discord, so make sure you join.
Some of our notable testers and feedback contributors include the amazing AussieSloth, Lomax, Galicone, Astralite, ghis, Silvergun Superman, nanonarcagent,  rolly olly, Bitcrypto81, JDH, pokerdude777 and sideshow.
Many of these community members provided an invaluable contribution to the development of the blockchain itself, by testing various software iterations during the development of the blockchain marketplace code. Similarly, they, and others in the Safex community, also tested and provided feedback during the development of the user-friendly TWM wallet, now known as the Safex.Market wallet. Without this support by the Safex community, the project would have taken much longer to reach the point of a completed ecommerce blockchain, along with a functioning GUI wallet to purchase goods and services. A big thanks goes out to all those who helped us achieve these critical milestones.
5. Be creative - do it your way

There is a unique beauty in a self-organized community and the progress that can come from it.
Lomax made a massive impact by building the Safex.Ninja website, where you can find the entire Safex catalog, with photos of the products, product descriptions and other data, and even links. The product information gets pulled directly from the Safex Blockchain. Other sections of the website provide blockchain statistics and information, publicly available nodes located all around the world for connecting your wallet to, and a table listing information about all the Safex price peg oracles for assorted currencies. Safex Ninja made the Safex catalog more accessible to the people who don't yet have the Wallet installed, or for people to simply want to browse the catalog online. The safex.pics image hosting website is also thanks to Lomax.
The safex.tools webpage, where you can estimate rev share returns based on Gross Marketplace Volume and Safex Tokens staked, is a contribution by community member Astralite.
BlueDragon.Safex is developing the MySFTtracker web/mobile app, and always surprises us with some ideas, which he shares on Twitter and Discord. He also looks at ways to apply the Safex Blockchain to new uses, such as a true random number generator, capable of being used in games of chance. Follow him, get inspired, and learn something new.
Galicone has also been a great community asset, creating his own useful website, and applying his coding knowledge towards updating the Safex 1-click miner, and more recently, tinkering with the Safex Wallet app.
Do you remember BelgradeCrypto - Europe local crypto-community oriented towards Safex? The community is organizing mini promos and it is self-sufficient. Some of the actions on their lists were printing promo material, explaining how Safex works, organizing hangouts, and, of course, having fun.
Conclusion

In the above text, we tried motivating you to step out and use your outstanding skills and help promote Safex.
Let's all jump into the discussions, leave relevant comments, post on social media and forums, share news and other valuable posts, use the content we already have, and feel free to make your own. On top of that, you can always suggest to us what we can make, which is missing from the Safex library. Remember to share essential links, for example, links for downloading Wallet, discord invitation, or a full Safex Link tree.
We hope more of us can become active in helping Safex complete its goals of becoming a powerful eCommerce platform!
Let's do it together, and have fun!