Ecommerce Terminology - 99 Terms You Need to Know Before Starting Your Online Business
E-Commerce is becoming the leading way of business for many industries. And just like every other industry, eCommerce has its own terminology. That's why we decided to present you with 99 vital terms you need to know before starting the online business that will help you thrive in eCommerce.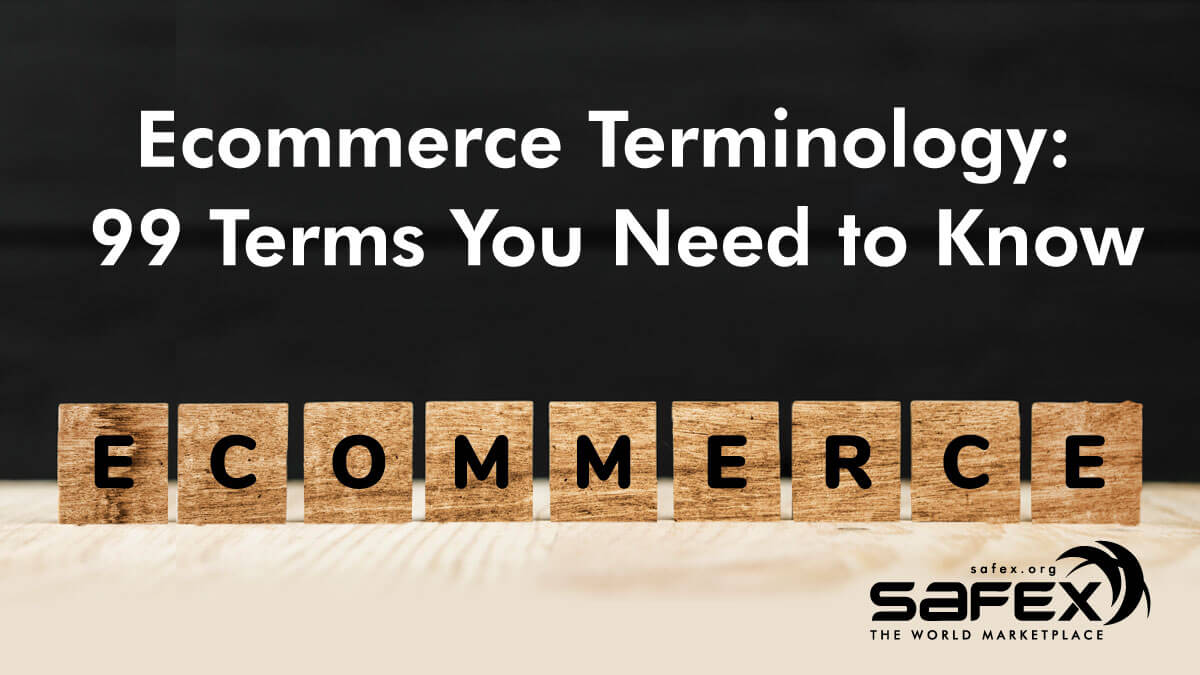 A
1. Abandonment
In eCommerce, this term is usually used to describe the undesired action of a user who leaves the webpage without making a purchase. This term refers to so-called cart abandonment, an action where the visitor takes the products into the cart but leaves the shopping cart without finishing the purchase.
Cart abandonment is one of the most critical points of every eCommerce business, and if you want to increase the purchase rates, you should find the reason your customers leave the shopping cart. The reasons are different, from bad user experience, too long or complicated process of finishing the purchase, to the insecurity visitors may feel when it comes to the moment of leaving the credit card details on your website.
2. A/B Testing or Split Testing
Web developers use A/B testing to compare two web pages and determine what page will convert better and fulfill users' experience. There are usually two website variants that are shown to a group of users at the same time, who express their opinions and help them decide what has a greater potential of better conversion rates. This is one of the best mechanisms to figure out the right promotional and marketing strategies for your eCommerce store.
3. Address Verification (AVS)
AVS is a credit card processing system that is implemented onto your website to verify that your customers' billing addresses match the addresses on their credit card statements.
4. Affiliate Marketing
Affiliate marketing is a marketing strategy based on collaboration with external associates that are in charge of advocating your product or brand. To acquire the purchases on your websites based on their recommendation, they are usually paid a fee. This is one of the best ways to increase your online sales and brand awareness as well. One of the easiest ways to track the report on made purchases based on their impact is through the promotional codes.
5. Application Programming Interface (API)
API is a set of protocols, instructions, or specifications that allow two software applications to interact and exchange data. This helps the developers avoid writing code from scratch or when they have to program graphical user interface (GUI) elements.
6. Average Time on Site
Average time on site is the time that a user spends on your website while browsing it.
7. Average Order Value
Average order value is the amount of money spent buying in your online store. The formula for calculating the company's average order value is:

8. Assisted Conversions
Assisted conversions report is provided by Googles Analytics that shows the channels responsible for generating leads and visits to your website and the customer's conversion journey. This can be very useful data because it helps you nurture would-be customers and convert them.
9. Authorization
Authorization is associated with the process of your customer's credit card when the issuing bank gives permission and allows a payment transaction to process.
B
10. Billing Address
Billing Address is the address noted and used on a customer's credit card statement.
11. Bounce Rate
Bounce rate is a percentage of visits to a webpage where visitors leave it after viewing only that one page. It means they are not clicking any of the internal links on the website or trying to search further for information they need.
12. Buyer's  Persona
Defining a buyer's persona is of tremendous importance for all your further marketing endeavors. It can help you address the right customers and sell the product easier. Details you should consider when defining your ideal customers are:
Location - where they live (city, region, state, country)
Age range - are they millennials, middle-aged, or belong to any other age category.
Education level,
Job position,
The earnings amount,
The way of spending their free time,
The technology they use,
Values, beliefs, opinions.
13. B2B
Business-to-Business online transactions imply the trade of services or products between two businesses.
14. B2C
Business-to-Customer way of trade implies online transitions between merchant and buyer.
15. Brick & Click Stores
Brick & Click stores mean running an offline store along with an online store. For the majority of customers, when it comes to the quality of user experience, this is the best combination since they have the opportunity to visit the store in physical space, try the product, or ask for advice face-to-face with the merchant, and order online too.
16. Blog
Pages on your website that are focused on specific topics related to services and products you offer, explaining them in detail. A blog can help you drive traffic to your website and rank better in search engines. This is an indirect way of driving your visitors to product pages and other landing pages.
17. Bundling
A package solution for related products usually offers a special, discounted price to boost sales and conversions.
18. Blockchain-based eCommerce Platforms
Blockchain-based eCommerce platforms provide its users, both merchants, and shoppers, to execute the transactions using blockchain technology that is not controlled by any third-party institution, for example bank. This enables the cutting of intermediaries and all unnecessary costs associated with transaction fees, which consequently leads to increased eCommerce revenue.
The payment method on blockchain-based eCommerce platforms is cryptocurrencies, which implies shoppers will not be obliged to provide the merchant with any credit card details, or any other personal data. Protection of personal data is the major aim of blockchain technology, and this principle is fully applied to blockchain-based eCommerce platforms.
C
19. Call to Action (CTA)
The call to action is an instruction to the visitors on what to do next on a specific webpage. This call to action is usually set like, "subscribe to our channel/email list," "buy," "book," "learn more," "get access to a free lesson," etc.
20. Cache
Cache memory is a hardware or software component reserved for a storage location that collects temporary data to help websites, browsers, and apps load faster.
21. Chargeback
A reversal of a completed credit card transaction, when the customer disputes the charge on a bank and the merchant's bank refunds the transaction's value. This is one of the most common frauds associated with online purchases, so you should definitely pay attention to it.
22. Click-to-Open-Rate (CTOR)
Click-to-Open-Rate shows the message's effectiveness in terms of the number of recipients who clicked through and read your email.
23. Conversion Rate
Conversion rate reflects the number of visitors who visited the website and became paying customers after that. The formula for calculating the conversion rate is:

24. Customer Lifetime Value (CLV)
Customer lifetime value is an estimated amount of total revenue that one customer can generate for your business during all their interaction with your eCommerce store.
25. Customer Acquisition Cost (CAC)
CAC is a metric that reveals the cost of acquiring new customers who make a purchase, which helps determine how to direct the resources to gain new customers.
26. Click-through-Rate (CTR)
Click-through-Rate is a metric that gauges the number of clicks a page receives divided by the total number of visitors browsing through that page.

27. Cookies
Cookies are small text files placed on the website in order to track the visitors' activity on a specific webpage. Cookies are especially important for online retailers because they enable the option to track the items in a user's shopping cart as they explore the site and keep them there, no matter if the customer leaves the cart and goes to another page within your website.
28. Cross-Selling
Cross-selling means an offer of additional products complement or related to a product that the buyer intends to buy.
29. Content Management System (CMS)
CMS is a backend solution that enables the users to control and adapt the content that will show in the front-end. This means you can edit, create, publish, and maintain content on your website through this software application. Some of the best-known CMSs are WordPress, Joomla, Drupal, and many more.
30. Customer Relationship Management (CRM)
CRM is an integrated system that analyzes customer interactions throughout the customer life-cycle to improve customer relationships, improve customer loyalty, and achieve its business goal.
CRM compiles customers' information across different channels like the company's website, newsletter, telephone, live chat, direct mail, and social media.
31. Cryptocurrency
Cryptocurrency is a digital currency developed on blockchain technology that is used as a payment method in an online environment, such as blockchain-based eCommerce platforms. Those currencies are mineable, meaning users can earn them using their computer equipment. The best-known cryptocurrencies are Bitcoin, Etherium, Litecoin, Cardano, Safex Cash, and many more.
32. Crypto-Commerce
The next stage of eCommerce evolution is crypto-commerce. Crypto-commerce is developed on the basis of blockchain technology that provides its users with beneficial trading conditions and lower transaction fees since, in Crypto-commerce, the trade is made directly between the merchant and shopper, there is no need for any intermediary.
D
33. Discount Code
Discount code, or a Coupon Code, or Promo code is usually provided to customers through different channels such as influencers, affiliates, emails, websites, etc.
34. Drop-Shipping
Drop-shipping is a kind of a business model for eCommerce stores, where online stores sell the product they do not have in stock but order and purchase it from a third-party. Once the product is ordered and paid for, the third-party supplier is shipping the product directly to the customer and completes the purchase process.
35. Day Part Monitoring
Process of tracking the time when visitors visit the site.
E
36. Email Marketing
Email marketing is a type of promotion that uses an email base for sending newsletters with a special offer. Emails are also used for targeting the audience since this channel has one of the highest Return of Investment (ROI) rates.
37. Event-triggered Emails
An event-triggered email is an automated message sent to the email subscriber and is associated with some particular event, such as a birthday or a wedding anniversary.
38. E-Wallets
An E-wallet is a software-based system that stores users' information on payments and passwords for numerous payment methods and websites. E-wallets can be used with mobile payment systems that enable customers to pay using their mobile devices, and they can also be integrated with bank mobile apps and platforms such as PayPal and cryptocurrencies too.  A Crypto-Wallet is similar to the E-Wallet, except it stores no information about users, except amounts of cryptocurrency they have.
39. Ecommerce Platforms
An eCommerce platform is an end-to-end software solution that provides online trade both for merchants and shoppers. It provides merchants to place their products online and shoppers to buy them. Ecommerce platforms function equally in B2B and B2C businesses. Some of the best-known eCommerce platforms that are easy to integrate into the website are WooCommerce, Shopify, and BigCommerce. If you want to try out the Crypto-Commerce platform you can check out Safex Market. Each platform provides its users to enter the global market and maximize its profits by automating the selling processes.
F
40. Fulfillment
Fulfillment, also known as order fulfillment, is a term that signifies the process of order from the sale to delivery of goods to the customer. From the moment when the customers click the buy button to the moment until they get the product, which is previously withdrawn from inventory, packed, and shipped to the right address.
G
41. Google Analytics
Google Analytics is a free service provided by Google enabling users to track all the data associated with its users' habits. Analytics provides many tools like the particular geographical areas where most of the purchases are happening or if any of your users are troubled during the checkout process while purchasing. This helpful tool allows its users to easily spot the gaps or advantages in their online store and focus on them.
42. Growth Hacking
Growth hacking is a marketing mix that combines traditional marketing, analytics, and product engineering to advertise and sell products while increasing exposure quickly.
H
43. Homepage
The homepage is the first and main page on the website visitors land after typing the domain name. It serves as a navigation page since here are listed the most important links you want visitors to visit.
44. HTML
HyperText Markup Language the standard markup language used for creating Web pages. HTML consists of a series of elements and describes the structure of a Web page. Moreover, HTML elements tell the browser how to display the content.
45. Hyperlink
The hyperlink is a link from a hypertext file or document to another location or file, usually activated by clicking on a highlighted word or image on the screen.
I
46. Inbound Links
Inbound link, or Backlink, signifies the link from a third-party website that directs to your website.
Inbound links are essential for good rankings in search engines since Google considers every backlink as a vote to your website and signal that the content on your website is a trustworthy source and that your business name is reputable in the industry.
47. Inventory
Inventory is a stock of goods, showing the current quantity of products that have to be sold. It is of tremendous importance to keep the inventory data in perfect order since this is the company's asset.
K
48. Key Performance Indicator (KPI)
Key Performance Indicators measure a company's success versus a set of targets, objectives, or industry peers. KPIs are usually used to determine a company's strategic, operational, and financial achievements and gauge overall long-term performance. KPIs can also be used to measure some other performances such as foot traffic in a store, employee retention, repeat customers, or quality of customer experience.
49. Keyword
Keywords are words or phrases that help search engines to recognize the relevant content and put it as a search result. A single word is considered as a keyword, while a phrase made of few words is considered a long-tail keyword. Keywords are also used as metadata to describe images, text documents, and webpages. Using keywords in meta descriptions to describe pictures is very important since it impacts the content and is easier to find. This is especially important to do for Google Image Search.
50. Keyword Stuffing
Keyword stuffing implies using single or long-tail keywords in sentences without order or sense. Since this content doesn't give any value to users and aims to attain rankings artificially, it is considered webspam and unethical practice, Google developed an algorithm that recognizes these attempts and penalizes them.
L
51. Landing Page
The landing page, also referred to as the destination page or Lead Capture Page, is the first page your visitor arrives at after clicking the link provided through search engines, email, or some other source. The final goal of these pages is making conversions, so they always contain call-to-action such as subscribe to an email list, get the promo coupon, or buy this at a special price.
52. Listing Fee
The listing fee is the cost of listing your products to third-party websites. The fee depends on the value of the products and whether you want to prioritize the listing, which is usually extra charged.
53. Lead
Lead is a person who shows interest in a company's brand or products, which makes it a potential customer. Hence, any company's final aim is to get as many possible leads and convert them into customers.
54. Logistics
One of the most important parts of supply chain management enables products to get stored, transported, and delivered to final customers. This process implies planning, organization, implementing, and control in order to attain unimpeded flow of goods.
55. Luhn Algorithm
The Luhn algorithm is used for credit card number generation and validation.
M
56. Marketing Automation
Marketing automation means using software to automate the marketing processes such as email campaigns, or publishing posts on social media, to automate the tasks and workflows, manage them and track the progress. Marketing automation is an integral part of CRM that provides automated processes of customer segmentation, data integration, and campaign management. It can enhance your sales, relationship with users, replace specific workplaces, and positively affect your revenue.
57. MCommerce
MCommerce, or more precisely mobile commerce, provides its users to conduct online transactions, including selling, buying, online banking, and paying bills from their mobile devices, mobile phones, smartphones, and tablets.
N
58. Net Promoter Score
Net promoter score stands for the total percentage of shoppers who are ready to recommend your company, a specific product, or service to their close friends, family members, or colleagues. This metric is developed to determine the customer satisfaction score.
59. No-Follow Link
A no-follow link is an HTML attribute developed by Google, in an attempt to cut comment spam traffic, used by people who wanted to find a shortcut for reaching the first position in SERP. So, once a no-follow link is activated,  it disables them to get any credit in the search results.
60. Navigation
Website navigation implies a process of how the information is presented to users and how easily they can find needed information. For that reason, having great menu order and footer design is of tremendous importance if you want to enhance the users' experience on your web location.
O
61. On-Page Optimization
On-page optimization is the SEO technique for optimizing the content for search engines. On-page optimization helps search engine algorithms to understand what the content is about and estimate whether it is relevant to users' search intent.
The On-page optimization implies optimizing:
Title Tag,
Meta Description,
Seo Writing & Keyword Cannibalization prevention,
Interlinking,
Image Optimization
62. Off-Page Optimization
Off-Page optimization is one of the most important techniques for improving rankings. It helps extend the website visibility using another website or platform.
The off-page optimization implies optimizing the content in this way:
Link Building,
Google My Business,
Business Directories and Local Citations,
Guest Posting.
63. Omni-channel Management
Omni-channel management means a multichannel approach to sales, focusing on providing a seamless customer experience whether the client is shopping online from a mobile device, a laptop, or in a brick-and-mortar store.
64. Open rate
The open rate represents the percentage of people who opened the email sent throughout the newsletter or email campaign.

65. Outsource
Outsource means the use of third-party vendors to support business needs in terms of reducing overhead costs.
66. Order Tracking
Order tracking is a feature that merchants provide to their customers in order to have the possibility of delivery progress of their order. The order tracking is usually performed using a tracking code which is provided after the purchase is made.
P
67. Partial Shipment
A partial shipment is when the merchant delivers a single order in multiple shipments. This way of shipping requires the customer's permission for the delivery of a part of the total quantity of the order. In order to provide order-tracking, customers are provided with multiple codes referring to each of the shipments.
68. Path Length
A metric measured by Google Analytics that provides you with information on how long it takes visitors of your eCommerce site to become customers and what interactions are performed.
69. Payment Card Industry (PCI) Compliance
PCI is a set of rules and requirements for protecting your customers' credit card information when the data associated with it is stored, processed, or transmitted.
70. Payment Gateway
A payment gateway is a technology that enables merchants to accept credit or debit cards in their online or mortar-and-brick stores. In online stores, payment gateways are the "checkout" processes used to enter credit card information or credentials for services.
71. Pay-per-Click
Pay-per-Click is a term that refers to the cost of advertising in an online environment, meaning you pay only when the user clicks on a link.
72. Point of Sale (POS)
Point of sales enables all brick-and-mortar store owners to manage the physical store easier. POS is providing the business owners to manage their products, inventories, and customer details much easier, while some of them offer integration to online stores as well.
Q
73. QR Code
Quick Response Code is a two-dimensional barcode typically used for storing URLs, coordinates, and texts that are machine-readable and easily accessed through mobile devices.
R
74. Responsive Design
Responsive design means a design of a website and application that fits any device type screen and adjusts according to orientation. The aim is to meet users' expectations and enhance the user experience. In case your website or app is not responsive, and mobile-devices users can not see it properly, it will affect not only the rankings in SERPs but will also impact your customers' decisions to leave the web location faster, without getting back to it.
75. Return on Investment (ROI)
Return of investment is a metric that shows a ratio between net profit and the investment cost. It is used to compare a company's profitability and the efficiency of different investments.
S
76. Search Engine Optimization (SEO)
SEO implies optimizing the website's content for search engines in terms of rankings. The aim of optimizing content in this way is to drive more organic traffic to the website. For example, Google has more than 200 ranking factors, but it ranks only webpages, not websites.
77. Search Engine Result Page (SERP)
Search engine result pages are the pages Google and other search engines show in response to a user's search query. These results can be based on paid and organic search results.
78. Spiders
In order to locate new web pages for the document databases, search engines developed software to achieve this aim.
79. Shopping Cart
In an online environment, a shopping cart represents the list of all items purchased on a website.
80. Shipping
Shipping is a process of delivering the product, from the stock to the customer's home address.
81. Social Media
Social media channels are all online channels for communication that encourage sharing of ideas and information in an online environment. Some of the best-known social media networks are Facebook, Twitter, Instagram, Pinterest, TikTok, and Linkedin. Social media encompasses blogging, discussion on forums, commenting, and all other ways of interaction that enable users to participate in sharing opinions, experiences interactively, and problems.
82. Social Proof
Social proof is a way of marketing psychology based on the concept that people will follow the actions if they see a considerable number of others did it. In marketing terms, all the reviews, ratings, comments, testimonials are considered as social proof. Besides these mentioned types that are the type of users' social proof, there is also the expert, celebrity, and wisdom social proof.
82. Social Signals
All users' interactions on social media channels like votes, shares, pins, and tweets are considered social signals. Social signals are especially important for search engines because it gives them a signal they use within their ranking algorithms. In order to enhance social signals, integrate social media share buttons on your website and motivate your users to share the content directly from your website on social media.
83. Smarketing (Sales + Marketing)
Smarketing is a process of integration of sales and marketing techniques with a final aim of boosting sales and revenue overall.
84. Software as Service (SaaS)
Saas is a software distribution model that allows access to software and its functions remotely as a web-based service. Saas stands for one out of three major categories of cloud computing. It is centrally hosted and licensed on a subscription basis, meaning the organizations will not organize the installation and maintenance processes.
85. Secure Socket Layer (SSL)
SSL certificates are used to verify the authenticity of an eCommerce site's encryption standards, based on a technology for encrypting data sent over the internet.
T
86. Third Party-Payment Processors
Third-Party Payment Processor is a company that handles merchant account payments from various channels such as credit or debit cards for merchant acquiring banks.
87. Top of the Funnel
The top of the funnel is the first stage of the buying process and the first step of user interaction with a company's brand.
88. Two-Factor Authentication (2FA)
Two-factor authentication is a security system that requires two different forms of identification in order to access data. In eCommerce is mostly used to authorize the payment with a bank.
U
89. Unique Users
A unique user is counted as a single visitor no matter how many times it visits a specific web location. This is determined by user identification, unique IP addresses, or a cookie that attaches to the user's browser.
90. User Experience (UX)
User experience is focused on attaining a great user experience with a particular product, service, or website. When it comes to a website's user experience, it is important to ensure content is easy to find, useful, trustworthy, and accessible. It also means your website should be mobile-friendly since you don't want users to feel frustrated in case they can not see the website properly. Also, a website's speed plays a great part in the overall users' experience since the average user expects the website to load in less than three seconds.
91. User Interface (UI)
The user interface is a process through which web designers build interfaces in software or websites that are focused on creating a user-friendly look and intuitive way of usage.
92. URL
Universal Resource Location (URL) represents a unique location of a resource - image, file, webpage on the internet. For example, safex.org.
93. Upselling
Upselling is a sales technique that offers customers an opportunity to upgrade purchases or to buy a more expensive version of a product.
V
94. Viral Content
Viral content is referred to as any type of content, visuals, blogs, videos that are spread on the internet quickly by sharing it on social media or through website links.
W
95. Web Resource
The web resource is an HTML file, image, or any other file that can be uploaded on the internet and reached through a URL.
96. Website Traffic
Website traffic represents the number of visits and visitors to a specific website. It is measured in hits, page hits, or unique visitors.  
97. Web Hosting
Web hosting is the location of your website or online store. Just like you would need a physical place for setting your brick and mortar store, it's the same with an online store that requires an online location provided by web hosting. In other words, without a web hosting provider, all files would stay stored in a computer without an option to be presented to anyone else. Web Host providers give a place on a web server to store all your files and take the responsibility to deliver your website's files to users as soon as a browser makes a request by typing in your domain name. So, when you pay for web hosting, you are actually renting storage space on the Internet for your website and online store.
98. Web Analytics
Web analytics is a tool used to measure the data such as number of visits, number of unique visitors, specific keywords used, the online session time of each visitor, searched pages or content, and what is the reason why visitors left the website. Data acquired using web analytics tools are essential to optimize the website and understand users' needs and expectations.
X
99. XML Sitemap
A hierarchical model sitemap is a textual representation of a website's content pages. It is a list of all links that lead to specific content organized by topics, and it helps search engines crawl bots to search and display relevant content/information users have requested faster.