What is a Cryptocurrency Marketplace?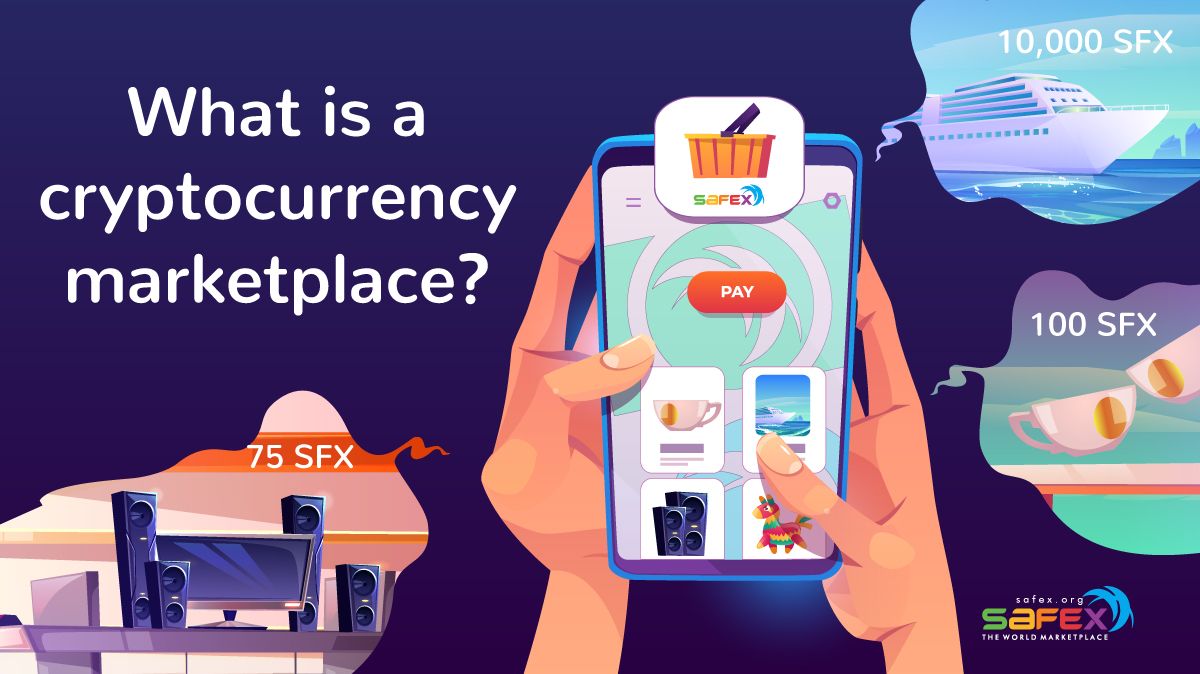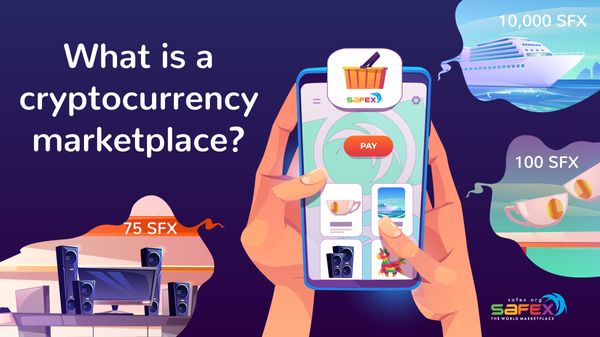 It was Seth Godin, the celebrated author, and dotcom business executive, who said that-"In a crowded marketplace, fitting in is a failure. In a busy marketplace, not standing out is the same as being invisible." This is the fine balance confronting any entrepreneur who attempts to build a marketplace on technology's cutting-edge. Because it is a whole ecosystem that supports entire lifestyles and lifetimes- a market cannot be held for one person's sake. Let's look at what a cryptocurrency marketplace is:
A cryptocurrency marketplace is an online location where a business's products and services are bought and sold with cryptocurrency as the medium of exchange. But before we delve into what it really is, let's me plant a seed that makes this phenomenon possible- cryptocurrency, the idea that money can be made one's own without the glaring oversight of a government or third-party. It is not necessarily a new idea, but a reimagining of what once was in the olden days. Cryptocurrencies are the natural evolution of money, and as technology makes it leaps and bounds, the nascent marketplace needs a new form of money to support itself.
At a cryptocurrency marketplace, products and services can be listed at these websites with prices listed in cryptocurrency rather than fiat currency prices. Fiat currencies are government-issued currencies like USD, EUR, CNY, SDG, GBP, JPY, and AUD.  Bitcoin tends to be one of the main cryptocurrencies used at these online marketplaces. However, with the rise of Safex, Safex Cash will be essential in this new business of the crypto-marketplace.
Safex: The Harbinger of a New Age of the Marketplace
The cryptocurrency marketplace is a branch of the basic root of e-commerce, a new branch, sprouting new leaves, ushering a new way of doing things, a new trade on the ever-expanding digital infrastructure of globalization. Today, consumer e-commerce is mainly driven by convenience and price; a great deal on products delivered at the quick march. Undoubtedly, a growing number of consumers want more from e-commerce; for example, the ability to find goods not found in big-box retail chains and alternative payment methods. By the year 2026, these Marslowian desires will still be there, but consumer anticipations of the e-commerce experience will have altered dramatically, along with the shopping experience.
Picture this; the year is 2026; the instant gratification of e-commerce has become more than a quick fix. Its use has evolved into expectations of a seamless buyer-seller experience across an augmented range of connected devices, in which convenience and immediacy are second nature.  Safex has a bold endeavor until then. However, they are up to the task as it would appear- a dream, great leadership, and a desirous consumer base whose e-commerce experience will mean more than products and services.
Safex is at the core and forefront of this exciting future in the quest for creating a streamlined shopping experience for the next decade- at the heart of it, the application of blockchain technology where cryptocurrency is the medium of trade. Safex is very ambitious in its quest to capture 1% of the global e-commerce industry, which is anticipated to surpass a total yearly GMV of $4,000 billion in 2022. In the event that these objectives are actualized, Safex will have proved itself a potential Amazon alternative, and its Safex Cash will have become a widely used payment currency, not to mention that this token will have proved itself a secure store of value, not just as a tool to buy and sell goods and services.
So, what is Safex? Safex is an open-source, privacy-predicated decentralized marketplace that has made use of the prevailing blockchain and cryptocurrency technology to expand the e-commerce marketplace for the user. As an alternative to the Big Data-obsessed e-commerce behemoths, the centralized marketplaces, Safex is achieving market share for its uniqueness and profitable benevolence.
How Safex Works
Safex is a Proof of Work coin, just like Bitcoin. The miners of Safex deploy the RandomSFX algorithm to produce more Safex coins accessible to the world, even if you are using a CPU, GPU, or ASIC computer to maintain its network's integrity.
The main medium for barter in the Safex marketplace will be Safex Cash, where users will use these coins to pay for products and services, including transaction fees.
The SAFEX token is intended for many purposes. First, a low fee would be charged to ensure that the user is a member of the marketplace network, whether you are a buyer or seller. Think of Costco and the way it charges its members. Second, the hodlers of Safex tokens will be imbued with voting rights over the company's decisions that will impact the current and future operations based on their assets. Third, hodling the Safex token is quite important for investors. Why? Because all business (an average of 5%) made in the buying and selling of goods and services will be shared with them based on their holdings.
What Makes a Cryptocurrency Marketplace Different From a Cryptocurrency Exchange?
A cryptocurrency marketplace is different from a cryptocurrency exchange. At an exchange, cryptocurrency assets are listed. Users create an account or log in at an exchange; whichever exchange allows their nationality to be used to make an account with the exchange.  At an exchange, users enter their credit card information, set up an ACH or SWIFT money to send government currency to their account from their personal or corporate bank account. Users also can load Bitcoin or other coins accepted by the exchange onto the exchange. Once their funds are loaded onto their exchange account, they buy and sell different cryptocurrency assets in exchange for their cryptocurrency or government currency. Typically, there are many cryptocurrencies listed at an exchange. The customers trade cryptocurrency once they are logged in. Usually, if many assets are listed at an exchange, this means that users will buy and sell more in that exchange, assuming it has good security features and is not susceptible to hacking. A Bitcoin exchange is a great example in this regard. By exchanges having multiple cryptocurrencies available for trading, this leads to the business's overall success. More trading will be done on their platform, and more cryptocurrencies will be exchanged.
Bitcoin is one of the most traded cryptocurrencies; cryptocurrency trading began with Bitcoin before the other coins came into existence. It makes sense that it should be at the position it is right now, undoubtedly even at a greater one.
The cryptocurrency market and cryptocurrency trading have several benefits. That said, cryptocurrencies also have disadvantages, that is, concerning their level of contemporary development-both for individuals and companies. The level of adoption grows ever so slightly but with the forward March of Progress.
Why Safex is a Good Crypto Marketplace
Safex became established in 2016, just before Bitcoin became well into the mainstream, aiming to tackle the Protocol Wars of the e-commerce collective that currently pervades the world, fueled by the promise of crypto, the blockchain, and the exploding e-commerce industry.
Fours years of development saw the Safex blockchain initiative launch its first live Stagenet for testing by the public prior to July of 2020.
Whilst they say data is the new oil, privacy will be the new global reserve currency because users will be able to shop privately at competitive prices. On the other hand, the vendors will be able to achieve maximum profit as a result of low fees and fair trade practices. One of the key points of differentiation, and a value providing a profitable sweet spot for Safex is their capacity to allow a low barrier to entry of the marketplace for small kiosks yet untouched by the digital age to set up their digital frameworks in a world that is becoming a village increasingly.
Some of these benefits of why Safex is a good crypto marketplace are summarized as follows:
Brisk transactions: While online payments appear to be instantaneous in this day and age, there is actually a slow banking mechanism behind the sending of money. For the individual receiving the money, the blockchain is more direct. Bitcoin is a bit slow, supporting 7 transactions per second.  But with a layered protocol like Lightning, Bitcoin can be ideal.
Reduced fees: The fees they have to pay per transaction for credit cards and other payment functionalities is one of the main issues with e-commerce for vendors. Fees from third-party providers are considerably lower for cryptocurrencies.
Increased security: Cryptocurrencies reduce the risk of digital transaction fraud. It is challenging to counterfeit and reuse each currency or cancel a transaction once it is completed.
Larger market: In every part of the world, cryptocurrencies can be used without adjusting rates and currencies to the region where the selling happens.
Improved user experience: The blockchain impact and and and the sharing of information that is beneficial to the customer. For instance, online clothing stores could have a system of tokens that may be used to establish associations with clothing and monitor inventory, the origin of the materials used, and the place where they were made.
Safex Cash is Better Than a Credit Card?
The credit card currently dominates the payment rails in the e-commerce industry, but long has it served, and it is prime time for an alternative to emerge- Bitcoin has opened that floodgate, Safex Cash tarries not far. The proponents of crypto frequently point to cryptocurrencies' potential to augment the reach and efficacy of e-commerce. The prevailing system of finance-while certainly workable-has its share of inefficacies, not excluding the over-reliance of go-betweens, which is often in the form of credit card providers that charge fees of up to 3% per transaction. Blockchain technology grants payments, trading, and exchange of information directly between buyers and sellers. This reduces the costs for many consumers and merchants. Blockchain technology automates the transaction verification process, which most banks are trying to establish to save on manual verification. According to information from Santander InnoVentures, it is estimated that blockchain technologies could diminish the infrastructural costs of banking by $15-20 billion by the year 2022. The use of cryptocurrencies will bring increased speed in settlement and far more inexpensive international transactions.
As seen by the remarkable success of the Square in enticing small businesses with lower fees, the higher productivity of crypto coins is likely to translate into a broader scope. Perhaps we might not be faulted to think that Safex could be the new Square for small businesses, which are the backbone of an economy, whether in the developed world or the developing one.
Because of the lower fees, retailers, who incorporate those fees into their rates, may be more likely to sell their goods online. Similarly, clients can decide to maintain digital currency balances and complete more online transactions without ever returning to fiat currency or feeling the need for a credit card account.  Lower fees and a lack of entry barriers may be revolutionary for the 25 percent of U.S. households that the FDIC has listed as unbanked or underbanked. Finally, the general skepticism of financial intermediaries that causes millennials to leave conventional banks and challenger banks indicates that crypto adopters will thrive in their own right. In this regard, the virtues of Safex and Safex cash are extolled.
This shows what e-commerce 2.0 barriers look like in the western world. Fiat currencies will take a complementary role. However, they will evolve into their digital versions.
If cryptocurrencies Bitcoin, in particular, are going to become ubiquitous, they need both corporate allies and imaginative outsiders. Safex is at the heart of this growing relationship as it runs its Proof of Concept. And as such, they are beginning to win over powerful insiders. For instance, in announcing Libra, Facebook's fiasco has been instrumental in bringing attention to the opportunity and has accelerated similar innovations elsewhere. Since then, many a Bitcoin exchange has been established due to the demand for cryptocurrency trading. Financial institutions, including JP Morgan, have recognized the need for a digital currency for payments, not just for a Bitcoin exchange but also for a cryptocurrency marketplace.
How Safex is Different, Better, and Trusted
Safex intends to connect privacy and your ability to buy and sell from anywhere in the world. Its simple philosophy rests on its desire to put people first because it is what matters at the end of the click. We live in a world that has turned people into data points in the marketplace instead of active entities that affect a marketplace's integrity.  Naturally, this dehumanization of the marketplace has taken place in a world that has forgotten the essence of the marketplace, which has made the customer a data point and not a human. A marketplace is a place of camaraderie, connection, and profit; the latter has become the sole pursuit of the marketplace. Safex wants to change that by:
Offering complete privacy-based e-commerce for both vendors and buyers
Having a native token that grants the user the ability to use both crypto and fiat currencies
Assembling a team devoted to privacy and best practices
Possessing an arsenal of funding to push e-commerce to where it needs to be
Setting up low fees for smaller stores and vendors to become and stay competitive
A strong and supportive community, which is the soul of a marketplace. Business is about people

Conclusion
Safex is charting the future of e-commerce, fueled by cryptocurrencies, cryptocurrency trading, a dynamic exchange of fiat currencies, and crypto coins based on the blockchain technology.  However, it should be said that the scale of crypto coins and Bitcoin is still in its early stages. Bitcoin is paving the way for all the cryptocurrencies. Safex Cash, much like Bitcoin, will serve as a progenitor to other cryptocurrencies that will crop up as the decentralized marketplace ecosystem grows. There is no doubt; other coins will come along.