The hottest B2B eCommerce trends in 2021
As the evolution of eCommerce is still ongoing, there are continuously emerging new applications and technologies which bring benefits to both merchants and customers. Among others, the implementation of cryptocurrencies as a payment option is definitely one of the hottest B2B eCommerce trends.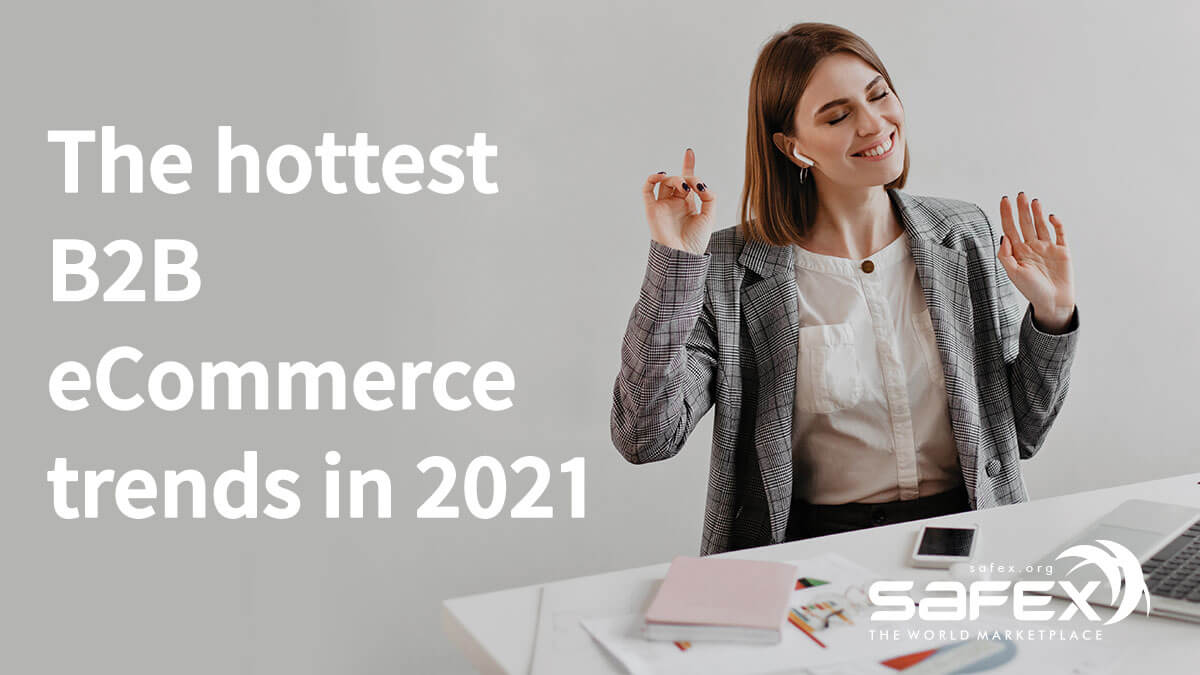 An accelerated evolution of technology, the rising expectations in the field of digital environment and the ever-changing customers' needs drive the B2B eCommerce trends in 2021, shaping new ways of businesses and the global economy overall.
One trend that will not only mark 2021 but also likely shape the next ten years is a rise of cryptocurrencies and blockchain technology that is already used to develop new forms of eCommerce. With the increasing acceptance and growing adoption of cryptocurrencies, the dynamic era of online shopping will experience additional crucial changes that will irreversibly re-shape the known world's image and initiate the movement that we might remember as the Fourth Industrial Revolution in the future.
Online B2B marketplaces
Online marketplaces such as Amazon, Alibaba or eBay are still dominating the global eCommerce market. Digital marketplaces generated 47% of online purchases, while as of September 2020, Amazon had reached a valuation of 1,597.2 billion US dollars, leaving the rest of the competitors far behind.
Beside the big retailers and brand websites that reported an increase in online sales in 2020, global marketplaces are still the best channel for small businesses that have to create a brand of themselves first. For small businesses, online marketplaces are a specific shortcut to a global market.
Although marketplaces represent the current top achievement of trade's digital transformation, they are already experiencing the changes in terms of technology, enhancing the possibilities for limitless trade.
One of the online marketplaces that are running the process of exploring and utilizing blockchain technology for eCommerce is The World Marketplace - a blockchain-based eCommerce platform powered by Safex. The World Marketplace is a decentralized platform that directly connects merchants and customers, bypassing the intermediaries like third-party payment processors and providing much better trading conditions. For example, a business that places its products on the eCommerce platform Amazon has to pay a fee from 10% to 45% on each sale. On The World Marketplace, the fee per sale amounts to 5%, making it a perfect eCommerce platform for startups, or even small and mid-size businesses.
Enhanced possibilities for increased revenue and significantly lower fees per transaction and sale make this novel eCommerce platform powered by blockchain technology benefit from one of the top B2B eCommerce trends in 2021.
API-driven B2B eCommerce
API-driven B2B eCommerce is definitely one of the top B2B eCommerce trends in 2021, providing its users with advanced processes of data exchange and automation of multiple procedures such as shopping cart, checkout, payments and ordering functions.
The features of API-driven B2B eCommerce enable users to implement innovations faster and to meet all their customers' expectations that are becoming higher with the progress of technology.
The World Marketplace - a blockchain-based eCommerce platform - provides potential merchants with a simple API integration to their website, enabling the option for online shopping with cryptocurrency.
Progressive web apps (PWAs)
In contrast to mobile apps that are specifically developed for Android and IOS, PWAs are designed to function across all types of devices and operating systems. PWAs don't even require the download of a specific app and if you want to provide your customers with an impeccable user experience, PWAs will be the right solution for this issue.
If you are not yet convinced to implement PWA technology into your business, you should know that the volume of mCommerce (mobile commerce) sales is steadily increasing and expected to make up almost three quarters of the total sales volume by the end of 2021. This means that your eCommerce store has to function perfectly on mobile and other types of devices in order to maximize your profits.
Augmented & virtual reality
User experience is one of the key factor for a final decision on whether buying a certain product. Although the classic presentation of products in form of photos and videos is still recognized as an impactful factor, users have become more demanding in terms of a product purchase's overall online experience. The implementation of augmented and virtual reality into your web store can make your product presentation stand out and be the vital factor for a customer making a purchase.
Some of the biggest companies in the world - such as Audi, Ikea, etc. - are already using augmented and virtual reality for product presentation to benefit from its features. This is an additional reason why we are recognizing it as one of the leading B2B eCommerce trends in 2021.
Advanced payment methods
Providing your customers with different payment methods is a crucial point that decides whether they will finish a purchase or abandon the cart.
Enabling multiple traditional payment options such as credit cards, checks, terms and payment on delivery as well as alternative payment methods such as PayPal, ApplePay, AmazonPay, mobile wallets and payment with cryptocurrencies may boost your revenue in many ways.
Let's consider the usage of cryptocurrencies and why we distinguish them as one of the hottest B2B eCommerce trends in 2021.
Offering products on The World Marketplace - a blockchain-based eCommerce platform where online shopping with cryptocurrency is already possible - provides merchants and customers with various benefits.
First of all, your customers will be guaranteed privacy, and they will not be obliged to give any of their personal or financial data to a third party.
Secondly, both merchants and customers will overcome the intermediaries in the transaction process, lowering the costs for both sides. Furthermore, the merchants are able to use their money from finalized purchases right away since transactions are settled instantly, in contrast to traditional payment processing systems where it takes up to five days to complete the payment authorization and transfer the money into your account.
The permission of cryptocurrency as a payment method can also result in an increase of cross-border trade since there won't be a need to exchange different currencies and pay additional fees for this service.
Digital security
The development of eCommerce has resulted in an explosion of user data that needs to be provided by customers. In order to finish a purchase, the user has to submit personal and financial data such as a credit card number, the CVV code, etc. These pieces of information are always at risk of getting compromised and misused. With traditional payment methods such as credit cards, we could say that such problematic situations are predictable.
On the other hand, digital security is one of the main concerns that is well addressed by blockchain technology, which enables its users with complete security due to the features of this technology. The users are not obliged to provide any of their personal or financial data to a third party since transactions are settled in a decentralized manner using either pseudonymous or anonymous addresses. Once a transaction is settled and included in a block, there is no possibility of reverting it which prevents any fraud attempt towards the receiver.
Crypto-Commerce
If you want to enter the next stage of digital transformation and be prepared for all the changes blockchain technology and cryptocurrencies bring, then implementing cryptocurrencies as a payment option into your eCommerce store is something you should definitely realize in 2021.
The evolution of eCommerce is already happening and The World Marketplace makes it easy for everyone to participate in it. Enjoy all the benefits that cryptocurrencies provide and become a part of the upcoming economic changes. Crypto-Commerce should be understood as a new business model that will help you overcome the high competition in the sector of established market giants and create an opportunity of becoming a leader in this new industry. You can join this ecosystem by either using an integration process to your already existing web store or setting up a merchant account on The World Marketplace app. Utilizing this novel technology to reach more target groups can help you scale your business and make it highly lucrative.
The World Marketplace will support your business with a better payment processing system, faster transactions, lower costs and higher data privacy. Considering those multiple benefits, it is clear why we recognize Crypto-Commerce as one of the groundbreaking B2B eCommerce trends in 2021.