Top Alternatives to Shopify that will Save you Money
With all things taken into consideration, we have decided to compose a list of what we believe are the best Shopify alternatives out there.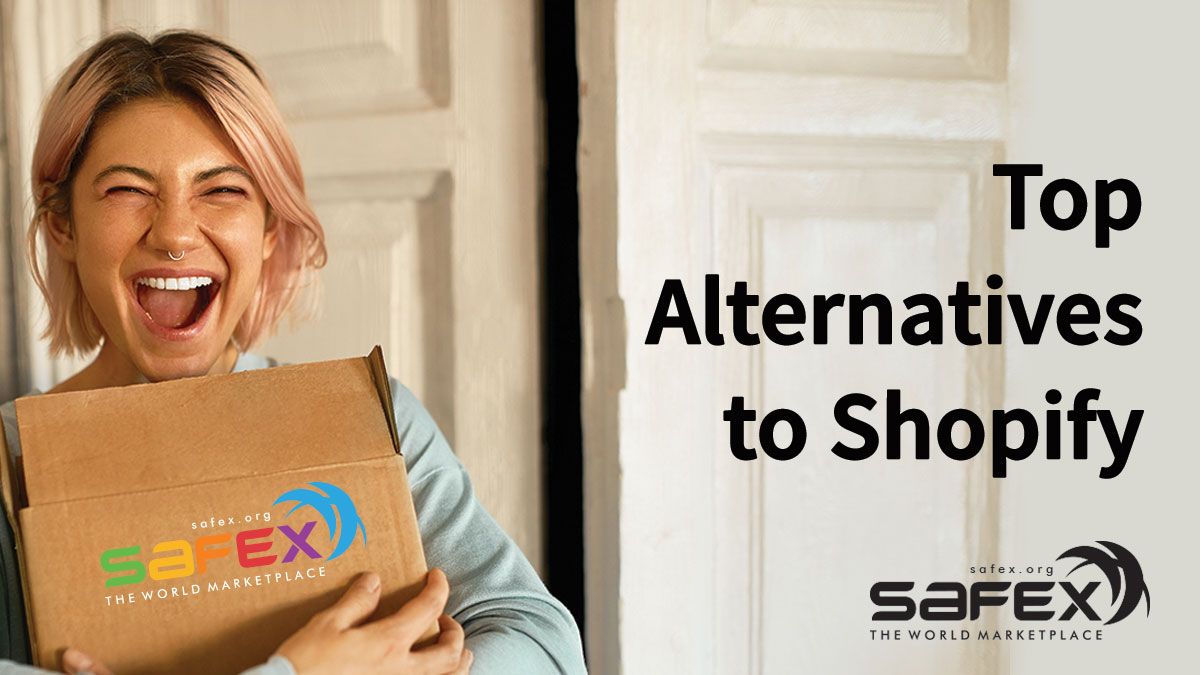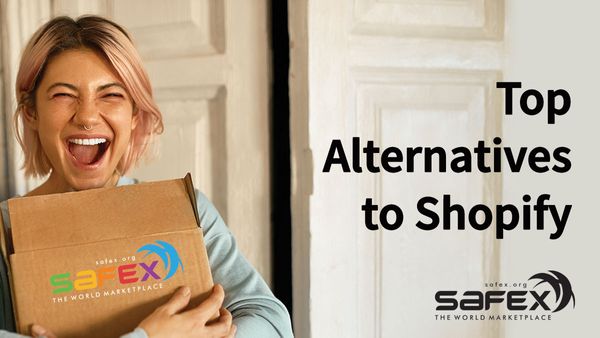 Shopify is one of the most popular eCommerce platforms. It is a comprehensive and user-friendly plug-and-play platform that offers a variety of templates for you to customize your online store. However, it does come with some issues, the most noticeable being:
Additional transaction fees - If you choose not to process payments through its in-house service, you can expect to pay up to 2% extra for every transaction.
Advanced features - Many advanced features, such as real-time shipping rates or the ability to accept gift cards are locked behind a paywall.
Lack of SEO tools - Rigid URL structures and a closed source technology do not provide an environment in which digital performance agencies can deliver their best work.
With all these things taken into consideration, we have decided to compose a list of what we believe are the best Shopify alternatives out there.
Safex - A user-oriented blockchain-based platform that protects your privacy
Safex is a decentralized open-source blockchain-based marketplace with privacy features. Its blockchain platform has been developed along with its ASIC resistant proof-of-work cryptocurrency - Safex Cash (SFX). The main goal of Safex was to create a user-oriented experience that maximizes retailers' profits while keeping prices for buyers low. In order to achieve this, there is only a 5% fee applied to every purchase of a listing. This is a significant reduction compared to most other platforms which charge up to 20%. Furthermore, this fee is not collected by a centralized entity but redistributed among the users of the network who are staking Safex Token (SFT). A product listing comes with a regular transaction fee of less than a cent.
Unique benefits of selling on the Safex network:
An additional avenue where you can list your goods and services and attract affluent cryptocurrency users
Drastically lower fees with the novel technology powering every transaction
Perfectly tailored for the communities that have barriers from obtaining easy access to banking services
No monthly or yearly subscription fees at all (access to the advanced Safex.Market software suite is not part of the blockchain network, nor is it mandatory.)
No need of self-hosting data about vendor accounts and listings
You can purchase both Safex Cash (SFX) and Safex Token (SFT) on the cryptocurrency exchange Xcalibra and other exchanges. Also, the integration of Simplex within Xcalibra allows their users to purchase Bitcoin and Ethereum via credit card or debit card.
Another upside of choosing this platform as your Shopify alternative is that with Safex your rights and privacy are respected. There is no centralized third party managing your data. You can decide on your own which data to provide and to optionally encrypt if desired. Finally, you can either choose to make your vendor account and offers only visible on The World Marketplace app but also decide to embed the Safex blockchain functionalities in your self-hosted webstore.
If you are new to the world of cryptocurrencies, the Safex community is there to help you. Besides informative and helpful articles on the blog you can find numerous discussions about various topics on the Safex forum along with a ton of how-to ideas. The Safex Twitter account ensures that users are always up to date, and there are many channels, such as Safex Discord, for direct contact if necessary. To sum it up, the Safex ecosystem has the ability to change the game of today's eCommerce.
WooCommerce - The most rapidly growing eCommerce platform
WooCommerce is a free and user-friendly open-source platform. Though you may need to pay for the advanced functionalities, its free package allows you to build a site that can easily compete with expensive carts. Also, with a little tweaking and paying for hosting, you can build a mobile-friendly website.
The platform offers a ton of plugins that integrate well with WordPress. One feature that we find very useful is Freshdesk which lets you embed a ticketing system so you can provide customer support to your clients directly from the store.
While Shopify is based on monthly subscriptions, WooCommerce offers premium add-ons for a one-time payment or in annual subscriptions.
One of this platform's biggest downsides is troubleshooting. If you happen to experience a glitch in your store, it is probably due to your hosting or a plugin, although the theme itself, like many others, has its share of imperfections. However, if you plan to run a content-heavy website, WooCommerce can prove itself to be the perfect fit for you.
WooCommerce is highly flexible with a tight development team, enabling you a plethora of options and flexibility. It is ideal for stores that have less than 200 products and allows for full developer control over the platform.
BigCommerce - A multi-channel selling SEO-friendly platform
BigCommerce is one of the most well-known alternatives to Shopify. It offers a smooth experience and a flexible drag-and-drop editor. Its themes are stunning, but only seven of them are free across all industries. It allows for multi-channel selling as you can manage your stores on Amazon, eBay, Pinterest, and Facebook directly from BigCommerce with your inventory being synchronized across the different shops. You can also use advanced content marketing features to promote your product on the internet and to increase conversion rates.
However, BigCommerce can turn out to be expensive for big volume stores. There is a maximum annual sales volume embedded in every plan, which means that you have to upgrade if you plan to sell more than a total listing value of $50,000 a year. In case you don't upgrade but exceed the gap, the platform upgrades you to a higher tier plan automatically doubling your monthly cost as a result.
Volusion - To manage your store on the go
This cloud-based shopping cart is one of the most popular alternatives to Shopify among small-sized companies and solopreneurs and is currently serving over 200,000 businesses. With a one-page checkout and an embedded eBay integration, which is available as a standalone premium add-on, it offers a huge library of templates.
While the loading times and the necessity of coding skills to set up your e-store backend are not something that Volusion excels in, its mobile app lets you manage your store on the go. It is important to highlight that, unlike Shopify, this platform charges no additional transaction fees.
Magento - The Best of Open Source Software Awards winner
Magento is a free open-source Shopify alternative perfect for most mid-sized to large businesses that have the resources to tweak the platform to fit their needs. As long as you are familiar with the code, there is virtually no limit to advanced customizations allowed. Although this is not the plug-and-play solution for beginners and does require self-hosting, it excels when it comes to flexibility, optimization, scalability, and the ability to accommodate vast amounts of traffic and sales.
If you are looking for total control over your shop features and security, and are ready to invest in it, look no further. The community version of Magento is free but requires that you program your store yourself. The Enterprise Edition is also available, and it comes with support from Magento developers. The subscription fee ranges between $15,000 and $50,000 a year.

Wix - A perfect solution for both beginners and pros
Wix is by far one of the most user-friendly Shopify alternatives. It comes bundled with more than 100 templates to suit your every need, a ton of apps, highly customizable theme options, and its editor makes it a go-to solution for both beginners and experienced users alike.
There are two methods to choose from when setting up your website:
ADI is something like an automated assistant that will suggest the best configuration based on the answers you provide in its questionnaire.
For those users that prefer full control and customization, there is a drag-and-drop Wix Editor that allows you to put any content anywhere on your site.
Its app store is packed with features. You can choose from more than 280 apps, add-ons, and plugins to integrate with social media, live chat, payment gateways, coupons, and much more. You can also embed HTML code and apply different button styles.
Prestashop - A multi-lingual platform with over 300 built-in features
Prestashop is a great Shopify alternative for those entrepreneurs that are running on a tight budget. Though it is considered a free platform, paying for web hosting and a domain brings it somewhere close to Magento when it comes to price range. Prestashop also offers a hosted version developed through its partnership with 1&1, WebHostingHub, TMD, Microsoft Azure, and other providers. Though Prestashop isn't as comprehensive in themes and templates as Shopify, its main selling points are the absence of additional transaction fees, support for 25 languages and a large variety of currencies, international sales, unlimited products and attributes, and abandoned cart details. Although it comes with only one pre-installed theme, it provides for an option to install third-party themes. When having a competent developer, you can build a stellar online shop with a minimal initial investment.
Final thoughts
Although Shopify has almost become synonymous with eCommerce, many businesses at some point look for a more flexible solution. When picking from a vast number of Shopify alternatives, there is much more to focus on than simply choosing the best one. Instead, you should have a realistic understanding of your needs, skills, and budget, and pick accordingly. If something works with your peers, it doesn't automatically mean that it will translate well into your business. Only by figuring out how you want your business to evolve, you will be able to make a step in the right direction. By using blockchain technology for eCommerce, you can turn your website into a successful peer-to-peer marketplace for online shopping with cryptocurrency - and once you achieve that, you will never look back.