Hosted vs self-hosted eCommerce platforms
When launching a business in the eCommerce sector, you need to decide between hosted vs self-hosted eCommerce platforms. Beside these two classic options with various providers and software, there is also the possibility to open a store on a decentralized platform based on blockchain technology.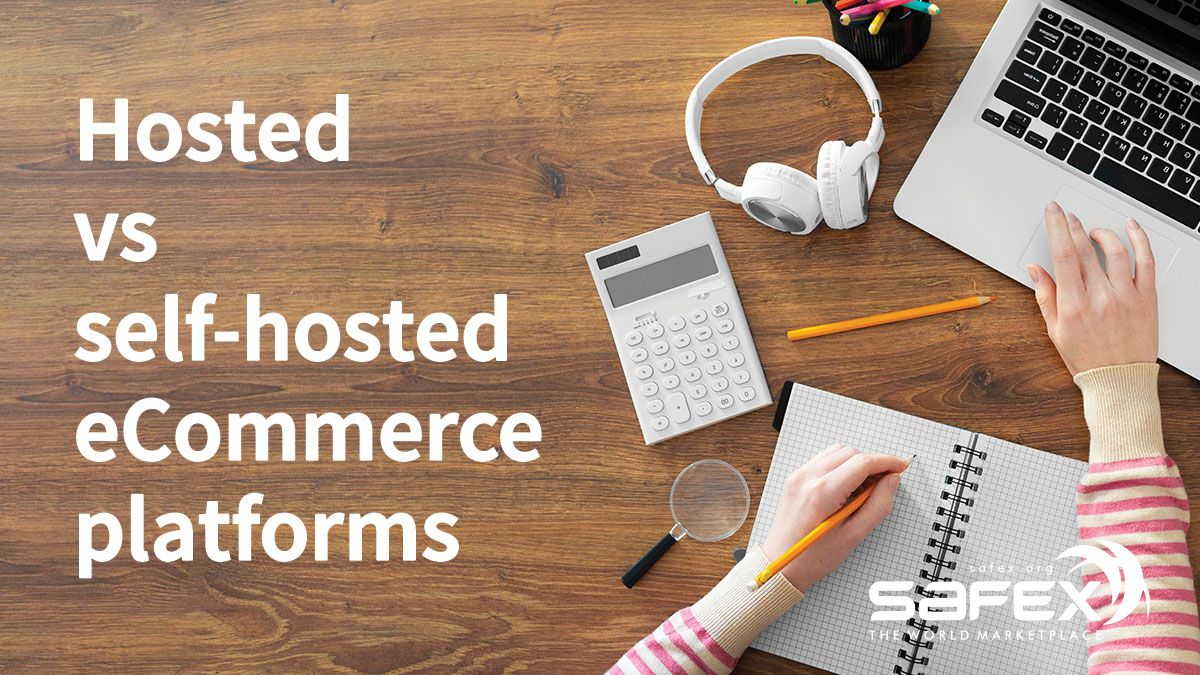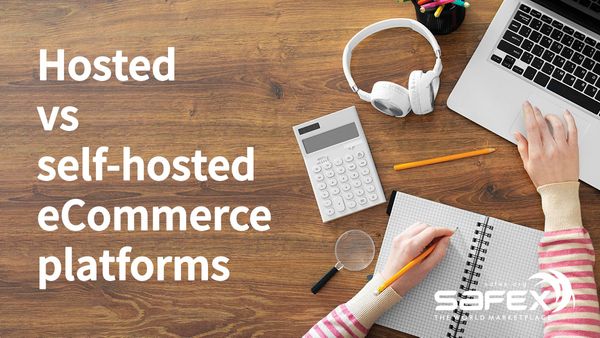 When starting an eCommerce store, the first decision you have to make and that has the potential to influence how your online business will develop within time is answering whether to choose a hosted or a self-hosted eCommerce platform to run your business.
For that reason, we present you with an ultimate comparison of hosted vs self-hosted eCommerce platforms and how to build an online store on the chosen platform. We will also introduce you to novel hosting possibilities powered by blockchain technology and show you which blockchain-based eCommerce platform is the best to start your new eCommerce venture.
Hosted eCommerce platforms
Hosted eCommerce platforms provide a complete eCommerce solution that includes hosting, shopping cart functionalities and technical support. A monthly fee that differs depending on the store's size usually covers all the needed support, such as hosting the customer support that solves all the issues you might face.
The greatest advantage of a hosted eCommerce platform is the simplicity of managing the store while customizing and adding items to the store will still be your responsibility.
To sum it up, hosted eCommerce platforms offer:
Less complicated technical requirements when starting your business.
Limited, yet appealing customization options regarding themes or plugins.
A great solution for startups that are just beginning to develop their business.
The best examples of hosted eCommerce platforms are Shopify and BigCommerce.
The flaws of using hosted eCommerce platforms
Hosted eCommerce platforms are more expensive to maintain.
The monthly fee is not fixed - it will increase as your business grows.
Customization possibilities are limited to pre-approved plugins and themes.
Self-hosted eCommerce platforms
Self-hosted eCommerce platforms are usually built on an open-source platform that enables you to control your website. Furthermore, since self-hosted platforms are supported with in-detail documentation, an experienced developer could help you with all the changes you want to perform on your website, which is the crucial difference from hosted eCommerce platforms.
A self-hosted platform can be set up anywhere, so it's up to you to choose your preferred hosting service. A self-hosted platform enables you to be detached from a centralized service and gives you the opportunity to move it somewhere else whenever you need to. This is very important in situations where an eCommerce store outgrows the provider's capacities or better conditions can be found elsewhere.
The best examples of self-hosted eCommerce platforms are WooCommerce and Magento.
The flaws of using self-hosted eCommerce platforms
A self-hosted eCommerce platform is harder to set up. The entire installation will be your responsibility. Also, you will need to find a hosting provider.
There is no centralized support system to contact in case you need help or have a problem with some error. You will have to rely on documentation, community support or an experienced developer.
Compared to a hosted eCommerce platform, self-hosted platforms' maintenance costs are significantly higher, especially when an eCommerce store grows.
Benefits of hosted vs self-hosted eCommerce
The main difference between hosted vs self-hosted eCommerce can be found in customizability and usability. Hosted platforms provide you with an easier way to start your online business. Running an online store on such a hosted platform means effortless inventory management and order tracking for a reasonable monthly fee. Although the website's customizing possibilities will be limited, especially regarding functionality, it will be worth using them.
On the other hand, self-hosted platforms are open-source platforms with limitless customization possibilities that might able to be complemented by installing software or some additional coding.
What to choose? Hosted vs self-hosted eCommerce platform?
The decision of which platform type fits you better depends on the functionalities you wish to attain for your eCommerce store and your need of possibilities for customization features. Before making a decision, make sure to answer those questions below because the answers will be the best guide for what you actually need:
How fast do you want to go live with your eCommerce store?
How demanding will be the changes for your website? Do you need a code-access in order to make those changes?
What features will be essential for your site to function?
What is the highest cost you can cover for running your online store?
Do you need complete control over your SEO?
How many different products will be displayed on your eCommerce store?
Do you need technical support that may help you resolving your issues?
Blockchain technology for eCommerce and the benefits of decentralized hosting
Before making a final decision about a hosted vs self-hosted eCommerce platform, we advise you to also check out novel hosting possibilities that are based on blockchain technology and decentralized hosting.
Unlike traditional eCommerce platforms hosted by third-party servers, a blockchain-based eCommerce platform such as The World Marketplace powered by Safex is hosted by its users and their computing power, enabling constant maintenance. All software is open-source and a user-friendly app is the link between users and data hosted on the blockchain.
Since there is no centralized host, the benefits of decentralized hosting for blockchain-based eCommerce stores are multiple. In the first place, the stores' maintenance costs are much lower since there is no centralized organization that will define the fees. Secondly, and most importantly, decentralized hosting provides its users with more security and privacy because there is no centralized third party that collects its users' personal and financial data. Relevant data needed for the payment and shipping is only exchanged directly between the customer and merchant. For for this reason, blockchain technology and data privacy complement each other well.
Thus, decentralized hosting via blockchain-based eCommerce stores provides its users, merchants and customers with more flexible conditions since no intermediaries will set the prices or rules and control the trade process.
Using a blockchain-based eCommerce platform relieves you of any obligation regarding hosting issues because, with a platform such as The World Marketplace, you don't need to maintain an own website at all.
With The World Marketplace app, you will be able to put your products on display with in-detail descriptions, pictures and other details, and your journey of online trade with cryptocurrency is ready to start!