Best Shopify Alternative
The popular eCommerce platform Shopify may offer many beneficial features to online shop owners and businesses. However, there are still left disadvantages that come with the use of such a centralized platform. Safex - a decentralized marketplace app fueled by cryptocurrency - offers an alternative.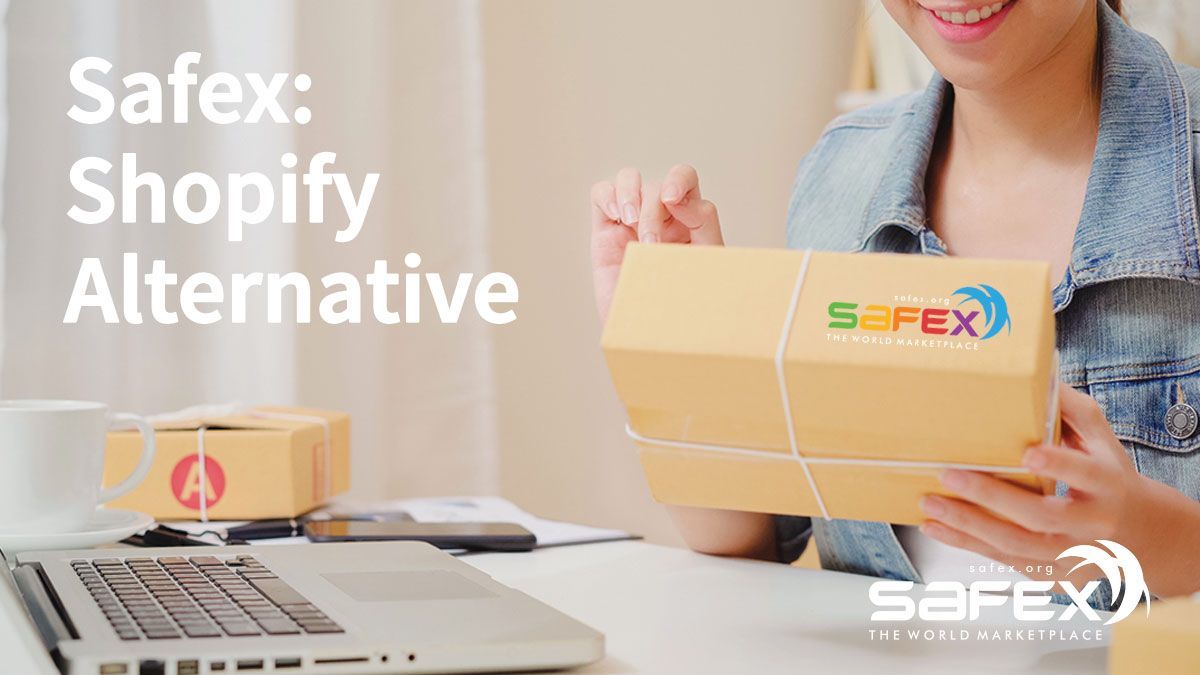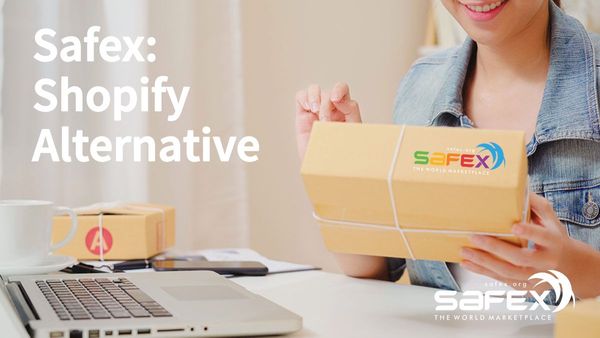 An alternative to Shopify is something you should consider in 2022.

Shopify is one of the most popular eCommerce platforms which allows you to sell products both online with your website or in-person with Shopify POS. Being so popular that it is, there is no doubt that Shopify offers many beneficial features to online shop owners and businesses. However, there are still a few disadvantages that often cause headaches to both users and store owners alike. This is why we will explore both the positive and negative sides of Shopify as well as suggest what we consider the best Shopify alternative.
Shopify pros

Detailed admin - There is a full range of reports and features in the backend of your store which you can use to get a better understanding of how your store is performing. You can view the number of orders, find your best performing product pages, or watch a real-time view of your website visitors to see what stage of the funnel they are in.
Free features - When you are building a new website, a free theme is loaded onto your store that you can customize to suit your brand. You can choose from many free fonts, change the color scheme, add photos and take advantage of various Shopify tools to further customize your website.
It is on a cloud network - Servers have the tendency to crash at bad times - especially on big events such as Black Friday - making you miss out on much revenue during downtime. By having your website on a cloud network, the odds of it being down are minimized so that you can run your business carefree.
Lots of apps - Shopify  also offers a ton of apps, both free and paid. From countdown timers to image background removers, there is an app for almost anything you could like to implement.
Shopify cons

A learning curve - Figuring out how to use Shopify and build a store that generates profit can take months. You may also find it hard to figure out where every section of your store is located in the admin.
Not the most inventory-friendly solution - You may find yourself dedicating an additional portion of your monthly budget for an app handling purchase orders.
It can slow down your website - Even though Shopify offers a ton of tools, you need to be mindful of each tool you add and look to use only those that are necessary so you don't ruin the user experience. Adding more tools can significantly increase your loading times and make your visitors impatient.
Adding new products can be time-consuming since all categories need to be built manually.
Price changes can also be time-consuming since you can only make changes by product.
Difficult to design pages - Shopify does offer an easy to use homepage editor. However, you can only use it to design your first homepage. For all your other pages you need to have a lot of experience with HTML or CSS. Otherwise, customizing your website can prove to be very difficult.
Its customer service often lacks detailed issue solving
Not friendly for shipping

The best Shopify alternative

Safex is an open-source, blockchain-based and privacy-focused decentralized eCommerce platform that helps both buyers and sellers, and is our choice for the best Shopify alternative in 2021. It utilizes contemporary blockchain technology for eCommerce, so that you can do your online shopping with cryptocurrency. Safex has carved out a niche for its services by providing anyone in the eCommerce ecosystem privacy that no centralized online shopping platform can provide.

As a crypto commerce marketplace, it provides new alternatives to the centralized digital marketplace sector that has been dominated by large corporations like Amazon or Alibaba. In addition to having questionable data gathering practices, some of these major corporations create higher prices for both consumers and sellers and also directly compete with sellers on their platform.

Safex' forward-looking collective understood the potential of blockchain, cryptocurrencies and eCommerce very early. The Safex blockchain was developed alongside its proof-of-work currency Safex Cash (SFX). With its low entry barrier, it allows even small businesses to enter the digital age where consumers can privately shop at a lower price while sellers reach their maximum profit margin through low fees and fair prices.

A competitive marketplace

We have already talked about how the current eCommerce marketplace is dominated by large websites. These websites often charge between 15% and 20% fee per product for sellers. For sellers to make a profit, they are forced to pass these costs onto the consumers. Another downside is that payouts could span from days to weeks.

Safex' business model is different. It creates a user-oriented experience that maximizes a seller's profits by taking only an extremely competitive 5% fee and charging just $0.01 for a product listing. For example, instead of earning $80 on a $100 product, with Safex, you can earn up to $95 as a vendor. An additional $15 on every product can mean a lot to small businesses.

Since there is absolutely no waiting time or downtime between the moment customers make a purchase and money being transferred to the vendor's account, marketers are able to quickly obtain revenue and refill their inventory and keep up with demands as they operate on maximum capacity.

Privacy is important

Today's online practices are such that corporations intrusively collect users' data valuing it more than the actual customers. With Safex your rights are respected as none of your personal information is being collected or recorded.
With the marketplace being decentralized, all that consumers have to do is provide their shipping address to the seller after making a purchase, which gives control back to the users. Consumers also may choose whether or not they want their name to be shown to other people. Personal information is inaccessible to any party including the project developers and contributors.

Help to get on board

The official Safex forum is the first place where new participants of the ecosystem - buyers and vendors - can reach out for help in case of any questions. Development updates are being provided regularly and discussion regarding various Safex related topics between the community members and the development team are taking place.  Also, articles published on the Safex blog include tutorials to access the marketplace among other covered topics as well.

The main advantages of the Safex platform

Safex allows eCommerce to grow in a manner that puts people first. Here is the summary of the greatest features of the platform:

A dedicated team that puts privacy first
Total privacy-based eCommerce for both buyers and sellers
Instant cash flow from buyer to seller in cryptocurrency
Encrypted messaging enabled between buyer and seller
Purchase related data only shared between buyer and seller
Small fees allow smaller stores and sellers to be competitive
Redistribution of fees to the Safex ecosystem's participants
The gateway to crypto commerce

The cryptocurrencies in the Safex ecosystem -  ASIC resistant proof-of-work mineable Safex Cash (SFX) for buying goods and services on the marketplace and Safex Token (SFT) for participating in the revenue sharing - are currently available for purchase on the cryptocurrency exchange Xcalibra.
This exchange can be considered reliable having gained an accumulated amount of $5 million in funding and being in progress of obtaining an official license as a cryptocurrency exchange in Switzerland. Also, an integration of Simplex allows Xcalibra users to purchase BTC and ETH via a credit card or a debit card.
Learn how to buy Safex Coins.