PancakeSwap: Get Wrapped Safex Cash (WSFX)
Wrapped Safex Cash (WSFX) was officially launched as a BEP20 Token on Binance Smart Chain, a liquidity pool is now live and active, so you can purchase WSFX.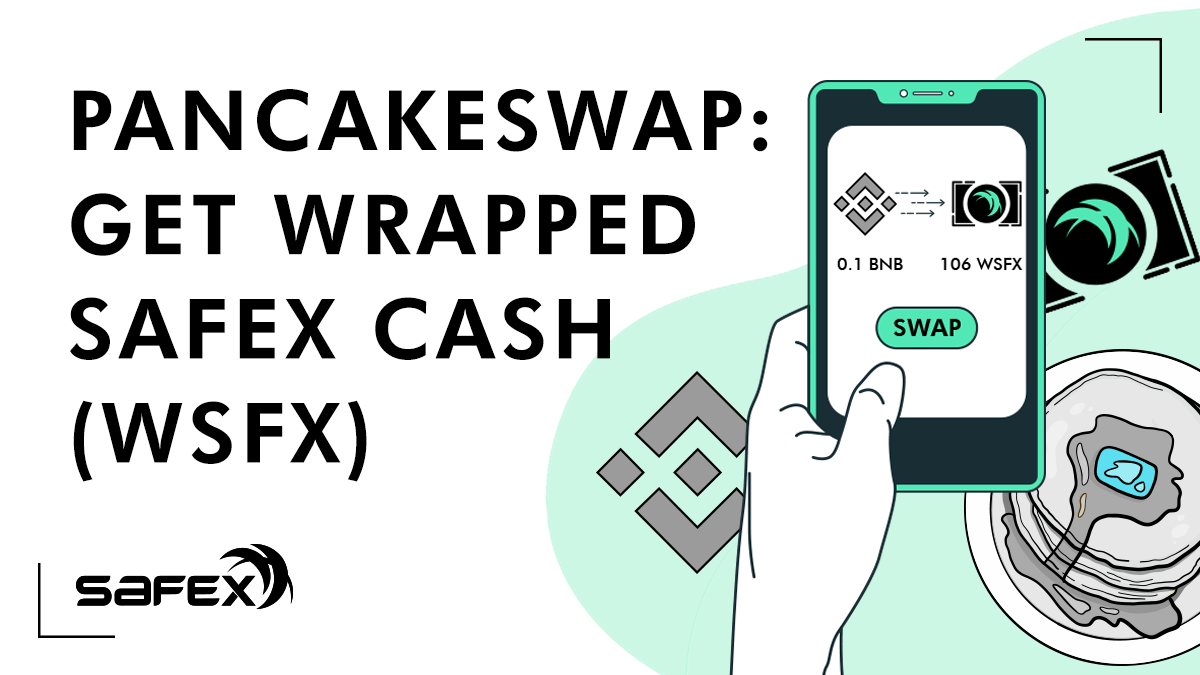 In our previous article, we explained what Wrapped Safex Cash is. Now we will explain how to get your first WSFX on PancakeSwap.
What do you need?
We will cover the following steps:
Opening Metamask wallet
Setting up the wallet
Swapping BNB to WSFX
Open MetaMask wallet
If you have a MetaMask wallet, just click in the upper right corner of your browser to open the app. Type in your password and click on the Unlock button.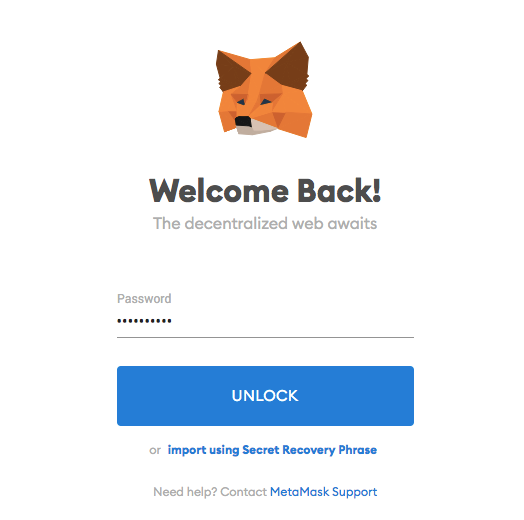 If you don't have a MetaMask wallet visit this link and download the wallet. It can be downloaded on Firefox, Chrome, Brave and Edge browsers if you are a desktop user or on Android and iOS if you prefer the mobile version. Pick the platform you are using and follow the steps to install it correctly. You should click on Create a new wallet, set up the password, and write down the mnemonic seeds.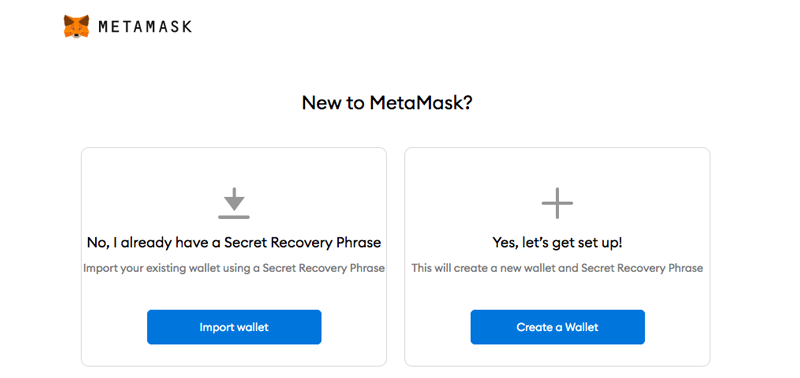 As always, keep them safe. Follow the instructions until the end, and when you finish, you will see a brand new MetaMask Wallet: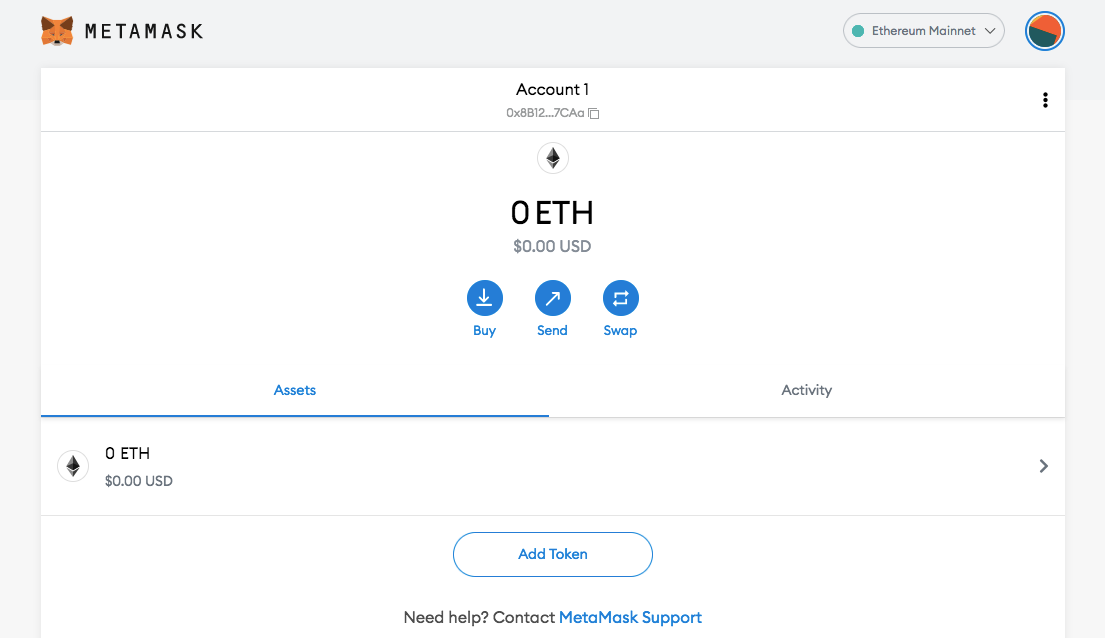 Setting up the wallet
As you can see, after entering the wallet, you are accessing the Ethereum wallet and Ethereum network. But we don't need that. We need a Binance Smart Chain. Don't worry - we will set up the wallet and access the Binance Smart Chain (BSC). Here is how to do so:
Click on the Settings.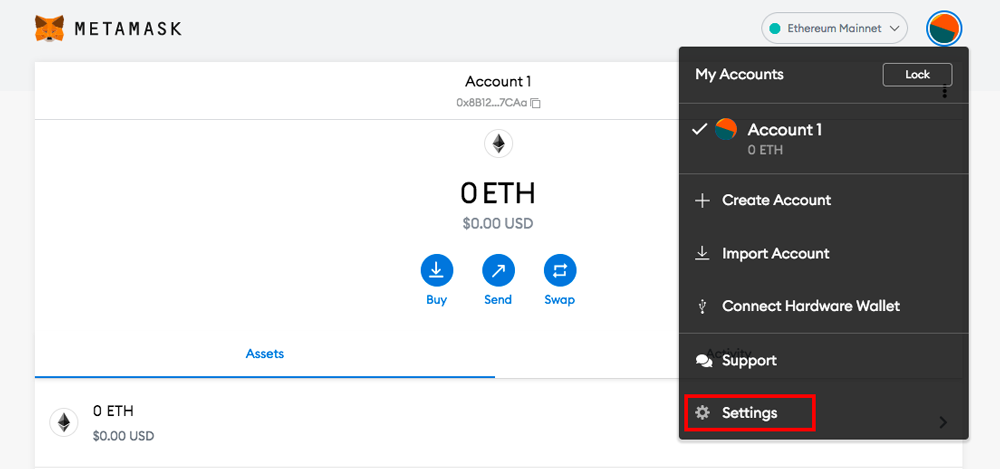 Click on the Networks menu. On the right upper corner, click on the Add Network button to add the Binance Smart Chain and paste the following information manually. This is the information we need to enter:
Mainnet
Network Name: Smart Chain
New RPC URL: https://bsc-dataseed.binance.org/
ChainID: 56
Symbol: BNB
Block Explorer URL: https://bscscan.com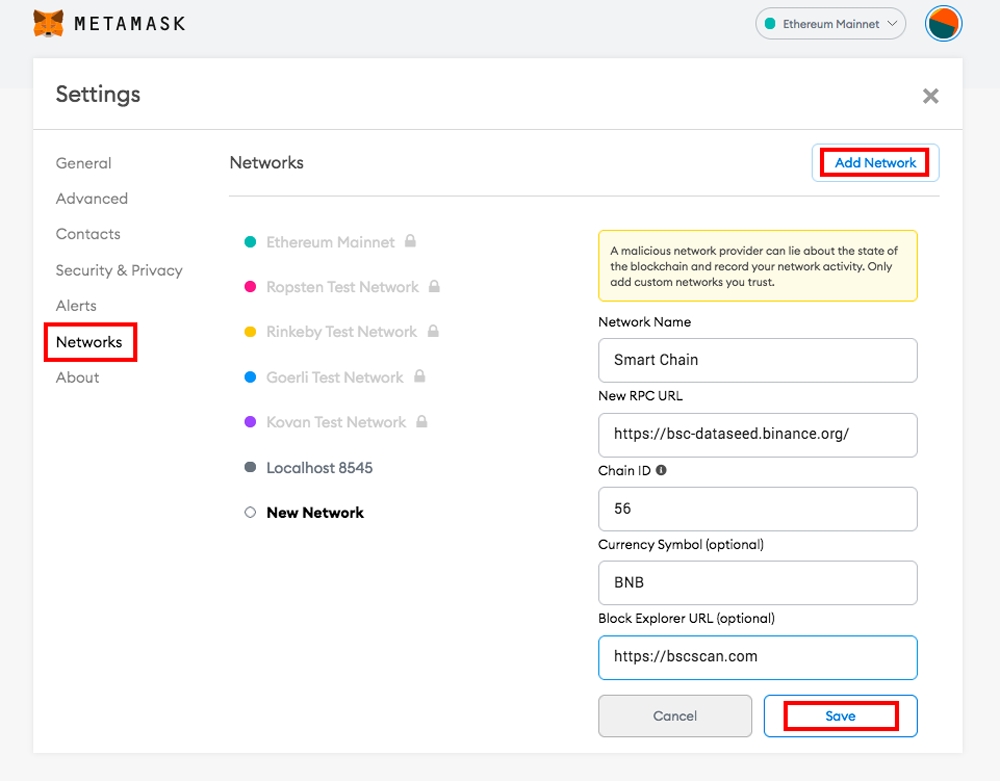 When you enter all, click on the Save button. You will immediately see you are connected to the BSC network: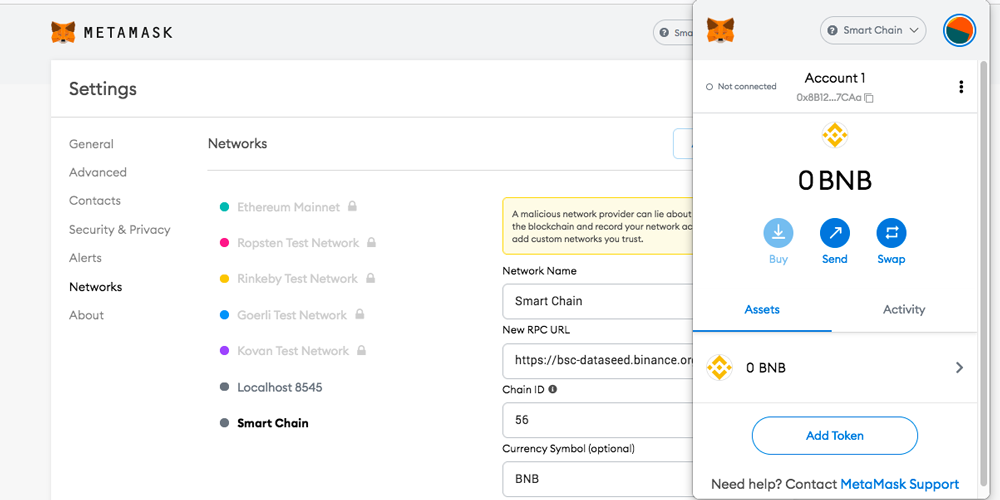 Swapping BNB for WSFX
Swapping is the easiest part. Go on PancakeSwap and connect it with MetaMask Wallet first by clicking on Connect Wallet button, and after on MetaMask icon: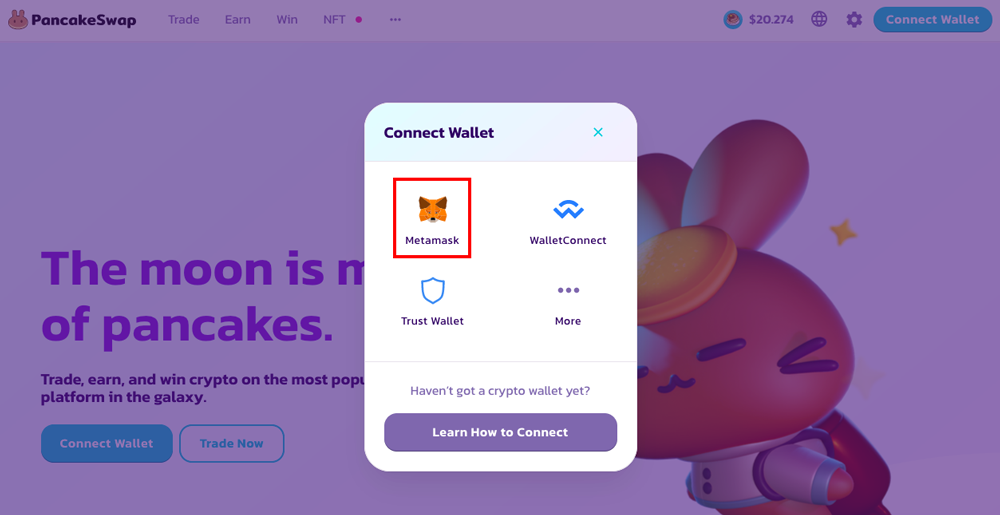 And you will be immediately connected. Click on the Next button: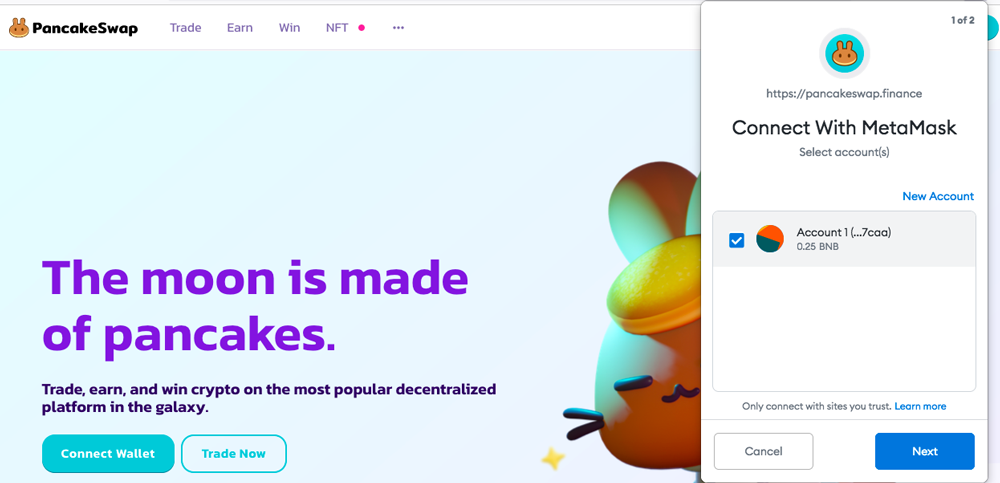 As you can see, we now have 0.25 BNB that we prepared for this swapping. Keep in mind that you would need some small amount of BNB for a fee. Click on the Add Token button to add WSFX: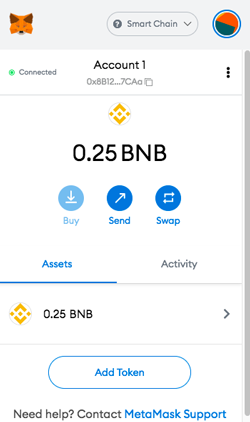 Now you need to add Token Contract Address. In the first field just paste:
0x41344d20f7ee36f23356ef7ef4a1ab635936ffe8
The other two fields will be filled automatically. Click on the Next button: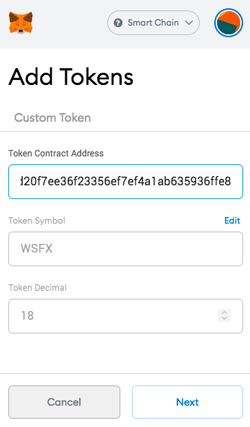 Right after, you will see Wrapped Safex Cash is added to MetaMask Wallet. To finally swap BNB for WSFX, click on the Swap icon: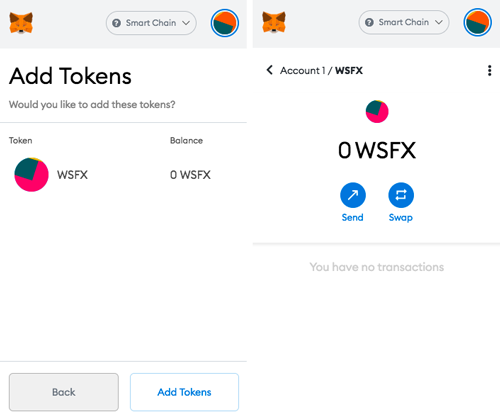 Choose which is the token you are swapping from: BNB
Type how much of it are you swapping: 0.1 in our case
Choose which is the token you are swapping to: WSFX
Read the note and click on the Continue button.
Adjust Slippage rate.
Click on the Review Swap button: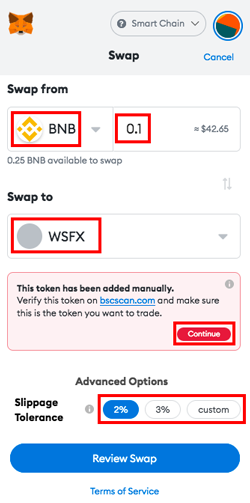 You will see under which terms are you swapping: how much BNB are you swapping, how much WSFX you will get and what's the fee. If you want to make changes to the swapping amount, click on the Back button. Otherwise, click Swap: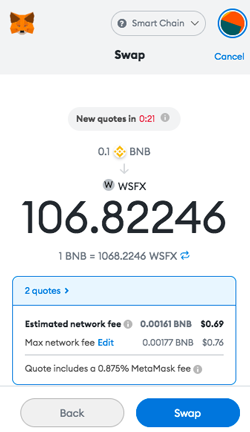 After swapping, you will see your transaction was successful: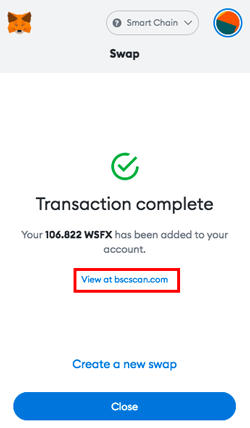 If you click on the View at bscscan.com link, you will see a confirmation your transaction was completed: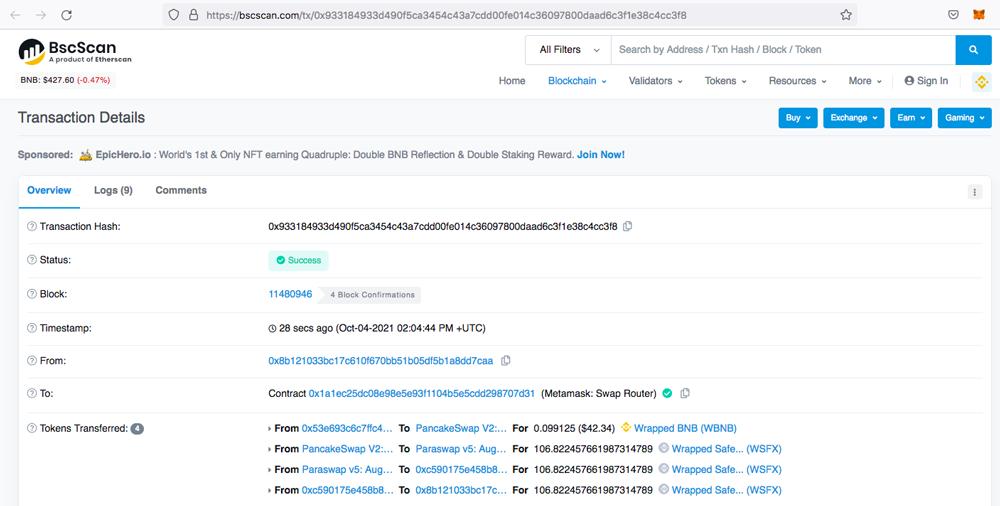 If you look at your MetaMask wallet, you will see you have 106.822 Wrapped Safex Cash and 0.1487 BNB: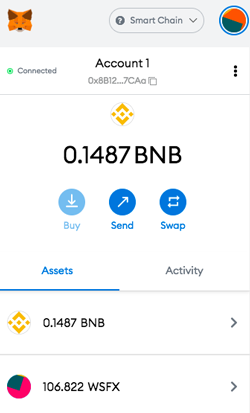 Congratulations! You successfully swapped BNB for WSFX.
Please share this post so others can get some Wrapped Safex Cash as well.
If you have any questions, write on our Forum.